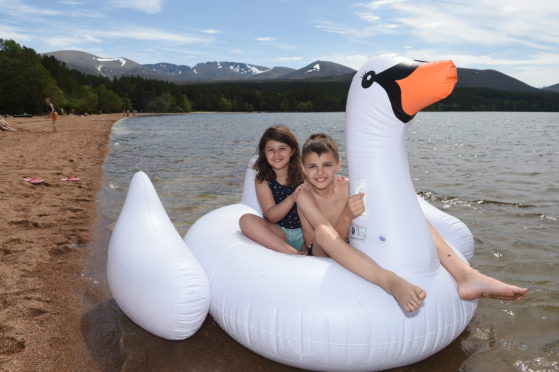 Best friends were reunited and parents met up with their children for the first time in months as the sun beamed down on public parks across the north and north-east yesterday.
At Hazlehead Park in Aberdeen, pals of 21 years Lynda Brown and Irene McRae were enjoying their first bit of quality time together since the nation was placed under lockdown in March.
Although they've been dropping off food parcels to each other, this is the first time since then that they have been in each other's company for more than couple of minutes.
The pair, both in their 60s, said it had been a very "strange" experience.
They said it would be a "really emotional" moment when they are able to share an embrace in person as the country slowly adjusts to its "new normal".
Kim and Gary Scott were also enjoying their time in the park but had much more to look forward to today.
After deciding to move to Aberdeen from Alford to be closer to their son, the couple faced stressful times when they weren't allowed into their new home and had to rent a house.
Mrs Scott, 48, said: "It has been really hard – we downsized from a five-bed house to be closer to him as he moved to Aberdeen University five years ago.
"We haven't been able to meet up with our son and we drive past his house but aren't able to go in.
"I can't wait to meet up with him and he'll be coming round for a BBQ, socially distanced, on Saturday and it'll be the first time in around nine weeks we've seen him."
As garden centres open during phase one of the lifting of restrictions, Dobbies at Lang Stracht was operating a one-way system inside while a queue grew outside.
Tamus Whyte was waiting to buy gardening supplies for the new property which he bought nine months ago.
The 30-year-old said: "I'm a big indoor plant keeper and am usually here once a week, but I've been having to order plants online and that can be a hit or a miss.
"I might buy some more today depending on the selection available."
At the other side of Aberdeen, pensioners Bud Bishop and John Gibson were reunited.
The pair met when they both joined a walking group which usually meets on a Wednesday.
After not seeing each other for 11 weeks, they met for a socially distanced catch-up in Duthie Park with a picnic.
Mr Gibson, 70, said: "We've really been missing it and not just the walks but the company as well, I don't really have any family except from two sisters.
"Life is starting to get back to normal."
Mr Bishop, 82, added: "After our walk with the group we usually had a cup of tea, a chocolate biscuit and a chat about politics.
"It's fantastic day and it's really nice to feel that freedom again."
Hundreds of families, couples and friends took the opportunity to spend some quality time and enjoy the soaring temperatures at Loch Morlich near Aviemore.
Picnic blankets were laid out on the golden sands and the smell of sunscreen wafted through the air – all while the picturesque snow-covered hills of the Cairngorms loomed in the distance.
Some also decided to cool off with a paddle in the loch's clear waters, while others looked thrilled as they floated along the surface on giant inflatable rafts.
Bicycles and even canoes were spotted along the Lossiemouth beachfront yesterday, as people used the relaxed lockdown measures to resume their favourite pastimes.
Several also relished the opportunity to once again wield a fishing rod – hoping for a catch off the coast.
Others were less fortunate with the weather but still made the most of it in Cullen, where a chilling haar crept across the area in the afternoon.
Families were able to meet together for the first time in weeks, with children competing to see who could make the most elaborate sandcastle.
Old friends had also travelled to the spot to meet up, reconnecting in person from opposite ends of a picnic bench.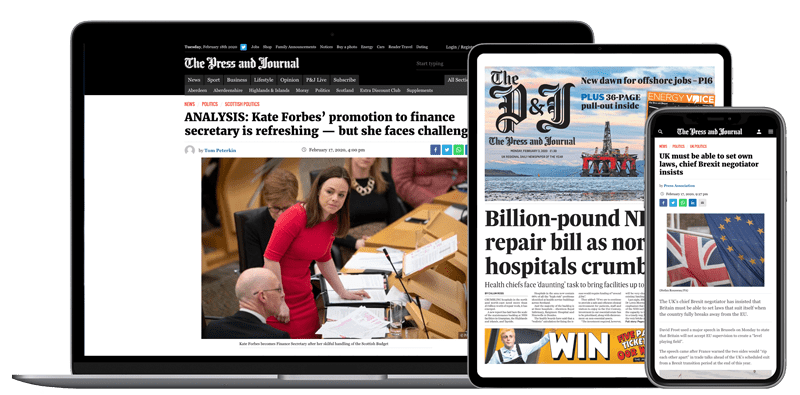 Help support quality local journalism … become a digital subscriber to The Press and Journal
For as little as £5.99 a month you can access all of our content, including Premium articles.
Subscribe