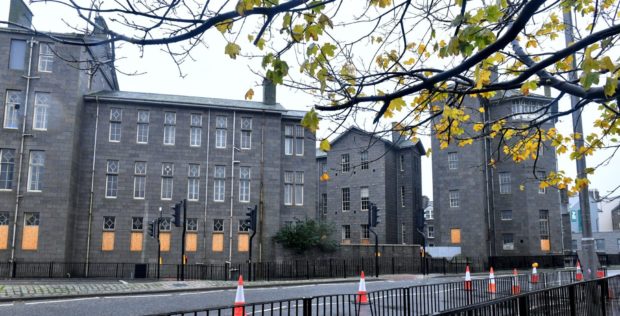 The developer behind the transformation of a historic Aberdeen hospital into a plush hotel has vowed to take action against vandals who broke in to film a video.
Those responsible for the break-in at the former Woodmanhill Hospital were condemned as "dangerous" after footage of them exploring the site, which still has full electricity, was shared online.
Three individuals from the "Urbandoned" urban explorers group can be seen attempting to use medical equipment left behind when it shut its doors in 2017, such as an old X-ray machine.
They had to dodge workers who are on site to turn what was Aberdeen's oldest hospital into a £10 million hotel.
The property investor behind the scheme, Charlie Ferrari, last night pledged to lock the old building up to prevent any repeat incidents.
He said: "They have obviously broken in illegally and I will attend to to this as quickly as I can.
"We will make sure that it is locked down again, and until this Covid scenario is resolved there is not much else that we can really do."
Rosemount and Midstocket councillor, Bill Cormie, said youngsters watching the video could end up injuring themselves if they tried to get into the building.
He said: "This seems to be a problem with the older buildings in the city.
"This is the first time I think anyone has breached Woolmanhill, because it has been well secured until now.
"I think folk should be aware of people going in and filming, these buildings are in a serious state of redevelopment and for their own safety people should stay out of it.
"It is a very dangerous infatuation that these people seem to have with exploring the inside of old buildings."
The same group filmed themselves exploring the abandoned Bon Accord Baths on Justice Mill Lane in Aberdeen earlier this year.
The Woolmanhill building will eventually become a new sister hotel to The Scotsman in Edinburgh.
The transformation was planned to take around three years to complete prior to the coronavirus pandemic delaying things.
Mr Ferarri added: "It could be some time before we get back to some form of normality, we have to stay positive and hope all these projects get going as quickly as possible."