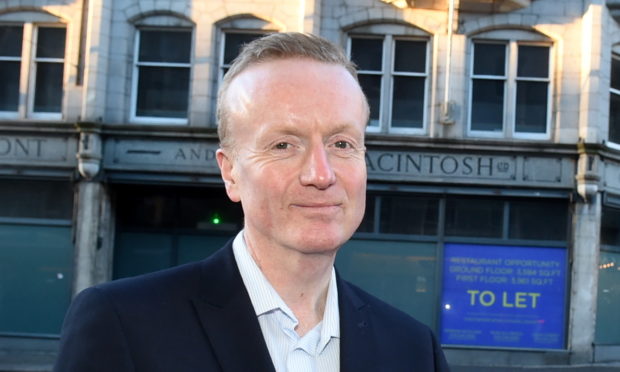 An Aberdeen business leader has admitted consultation around temporary road closures in the city centre was "disappointing" but revealed hopes the work could be viewed as a "pilot" for a car-free city in the future.
Aberdeen Inspired chief executive Adrian Watson has joined his Aberdeen and Grampian Chamber Of Commerce counterpart Russell Borthwick in criticising the handling of the roadworks.
But unlike the chamber – which branded it "entirely confused" – Aberdeen Inspired has been involved in the project since its inception, working with NHS Grampian and the council to secure funding for the work.
A stretch of Union Street between Market Street and Bridge Street has been closed to all traffic, while pavements have been widened along the length of the Granite Mile.
Schoolhill, Belmont Street, Chapel Street, Rose Street and Bon Accord Street are also partially closed, while there are on-way systems in force too.
The £1.76million work is aimed at allowing pedestrians and cyclists the space to safely return to the city centre, and to get businesses trading as lockdown is eased.
Last night Mr Watson said: "Communication is key and several businesses have found the implementation on the ground without prior consultation which is disappointing.
"Whilst businesses accept this is needed to safely open up the city centre, there is naturally anxiety by some that there was no engagement with them in advance of the actual implementation and the first they heard of it was when the roads began to be sectioned off and the cones laid.
"Even allowing for the tight time scales this isn't ideal."
The consultation has been handled by the council until now, with Aberdeen Inspired now helping communication with businesses through weekly sessions and site visits.
Many traders in affected streets took issue with the pace of work as they found out roads were being closed as workers laid out cones or painted lines on tarmac.
More than 2,500 people have signed a petition calling for the measures to be rolled back.
While emphasising the measures were "first and foremost about safety", Mr Watson believes the work could be viewed as a trial of longer-term transformation of the city.
Cafes, restaurants and bars are being encouraged to apply for temporary changes for their licences, allowing them to trade outside.
Pedestrianisation of the city centre and introducing "cafe culture" have been aspirations of council leadership for years.
A three-month trial cafe culture trial in Belmont Street was launched in 2015 but was not taken further.
Mr Watson added: "It does give us the opportunity to sample cafe culture, something most other self-respecting cities of our size have.
"Will the public view it as something they want brought in incrementally? We will almost have a pilot.
"But in the here and now it is about safety first and this is not the time to charge forward with pedestrianisation."
Council transport spokeswoman Sandra Macdonald the local authority "fully accepts" consultation was limited due to the need to move quickly with the work.
Feedback can be given at
consultation.aberdeencity.gov.uk/planning/physical-distancing-measures