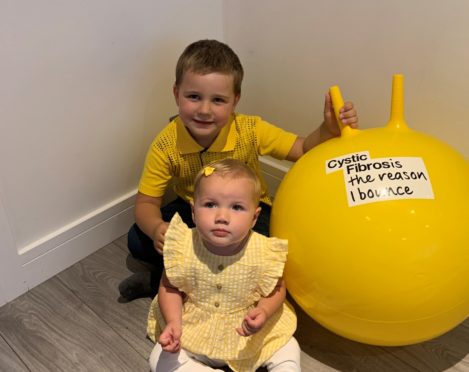 A big-hearted four-year-old is taking to his space hopper to raise awareness of his sister's condition.
Aberdeen lad Mason Laing is raising funds for the Cystic Fibrosis Trust, inspired by the daily health battle faced by one-year-old Piper.
Piper was diagnosed with cystic fibrosis (CF) last May at just three weeks old, after a routine blood sample showed she had the condition.
Mum Kerry Laing said hearing the news came as a "massive shock".
She said: "Piper's diagnosis turned our world upside down.
"We had no idea we carried the CF gene, there's no history of it in the family.
"We're starting to come to terms with it now. We're trying to not let it affect Piper's life and childhood, and to give her as normal a life as possible for as long as possible.
"It's been a difficult few months because to protect Piper we've had to shield, with the whole family restricted to just the house and garden.
"We can't go outside to walk or exercise as other members of the public can."
Making the most of the chance to use his space hopper to remain active during lockdown, Mason has been bouncing about every day for weeks.
So far he has raised £500 as part of the Bounce 4 CF campaign.
The charity has experienced a doubling in demand for its services, including emergency grants, since lockdown began.
Piper takes antibiotics, vitamins, probiotics and enzymes on a daily basis.
Her digestive system doesn't work properly and so she can't digest food or drink without taking her medication first, which gives her a half-hour window to take on the nutrition she needs.
She also undergoes daily physiotherapy to clear her lungs of mucus.
Mrs Laing added: "She's very susceptible to colds and bugs, and she can't play in muddy puddles or sand.
"She has frequent hospital visits, and when she takes ill it's always a two-week stay in hospital.
"Our lives revolve around medication, treatment, physiotherapy and hospital visits."
She added: "Mason understands a fair bit, he knows she has a condition and can't eat without her medication.
"He's really sweet with her, he makes sure she doesn't eat without taking her enzymes first, and he knows to always wash his hands.
"He looks after her very, very well."
Cystic fibrosis is a genetic condition affecting more than 10,500 people in the UK.
Those affected are born with CF and cannot catch it later in life, but one in 25 of us carries the faulty gene that causes it, usually without knowing.
To donate to the Bounce 4 CF campaign, visit www.justgiving.com/fundraising/bounce4cf.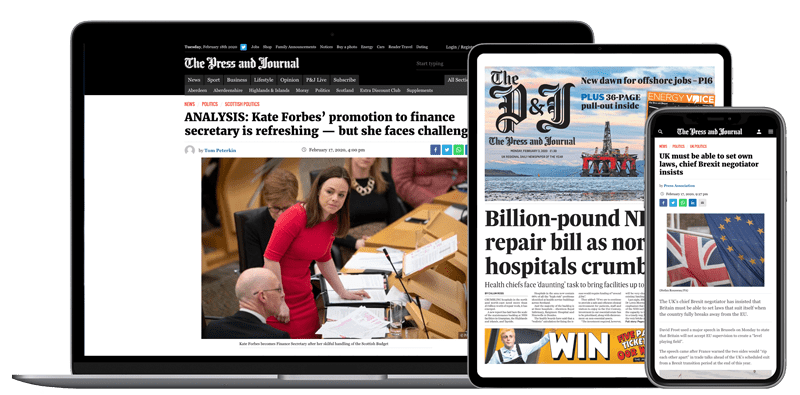 Help support quality local journalism … become a digital subscriber to The Press and Journal
For as little as £5.99 a month you can access all of our content, including Premium articles.
Subscribe