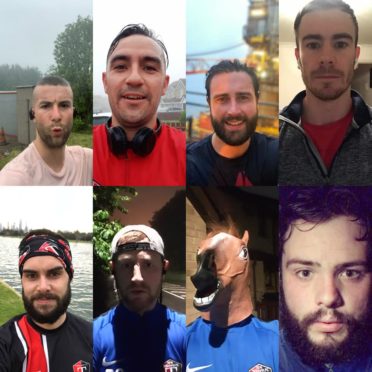 An amateur football club has raised £3,750 for two local charities by completing a 24-hour running challenge.
Tolbooth FC, who play at Hazlehead in Aberdeen, were nominated for the challenge by Highland League side Keith, who took on the feat earlier this month.
Scottish league outfit Cove Rangers and Banks O'Dee of the SJFA Superleague have also got in on the act in recent weeks.
Though several rungs below such esteemed company in the footballing pyramid, the Tolbooth squad proved they can punch above their weight.
The players ran a total of 210 miles between 6pm on Friday and 6pm on Saturday, with each player allocated a one-hour time slot to run.
Among those taking part were two ex-players now based in Australia, who put in their hour Down Under, and an offshore worker who completed his hour on the treadmill on his North Sea rig.
Club co-founder Ross Chapman said: "The other clubs who have undertaken the challenge have been Highland League and junior clubs, but we're at a slightly different level.
"Across the squad in any amateur football team there are varying level of fitness shall we say, so for us to be able to emulate those bigger clubs is a great achievement.
"As we are an amateur club, we don't have the support base of the likes of Highland League clubs, so we spread the word on social media and relied on the support of the local community.
"A lot of people bought into it and for a club like ours to raise more than £3,500 is a staggering achievement really."
Local charities Ucan and AberNecessities will benefit from the squad's efforts once the final amount has been added up.
To donate, visit justgiving.com/team/Tolboothfc-24