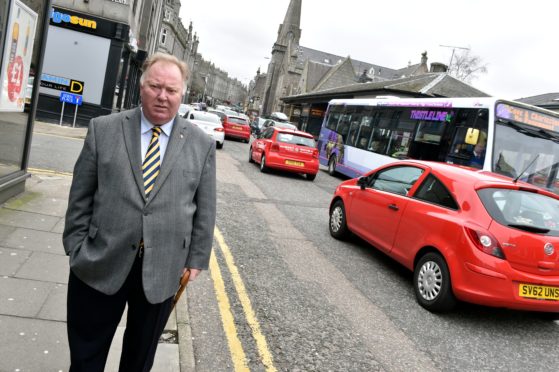 New physical distancing plans for a popular Aberdeen shopping street have averted a "disaster" for its independent retailers, it has been claimed.
Proposals for Rosemount Place have been revised after panic spread among traders when faced with the possibility of options, including pedestrianisation.
Council officers have now revealed they plan to impose a temporary one-way system between Argyll Place and Mount Street. However, a contraflow will be put in place to ensure a vital bus route can continue.
The £50,000 work – part of a £1.76m Spaces for People grant – is being carried out to allow pavements to be widened to comply with physical distancing rules both for pedestrians and customers queuing outside premises.
Proposals seen by The Press and Journal show that eastwards traffic will continue along the length of Rosemount Place, maintaining access to and from its many side streets.
However all westbound traffic, including buses, will be turned away at the main road's junction with South Mount Street.
Public transport will access Rosemount Place again by diverting along Leadside Road and up Esslemont Avenue and through a bus gate.
Buses and cyclists will have a lane around 10ft wide to travel from Esslemont Avenue to the junction with Argyll Place.
The barring of westward traffic between Mount Street and the contraflow will give people space to walk past a potential bottleneck narrow pavement outside the Sainsbury's supermarket on the corner of Eden Place.
Vycki Ritson, from the council's traffic team, said: "We must remember this is public health matter.
"The flexible, temporary measures are not a fixed entity and we can address issues, if they come up, in a measured way – it will not be perfect."
"We won't manage to keep all the parking in Rosemount Place but we are looking at the distribution of spaces and introducing loading areas for deliveries and customer collection."
Work will be carried out when cones and signs are sourced, but there has been a shortage due to a nationwide rush to carry out similar works.
Such is the changeable nature of the draft plans, that during the briefing for Rosemount and Mile End Community Council and traders on Tuesday night, buses were to be diverted along Skene Street, not Leadside Road.
This had led to worries about the provision for residents of sheltered housing in Short Loanings, Strachan Mill Court and Stevenson Court, who may only use buses for a journey of only one or two stops to reach the shops.
But by yesterday morning, after input from local councillors Bill Cormie and Jenny Laing, trade association Rosemount Rocks and First Bus, the proposals had been changed.
Mr Cormie said: "Early consultation has been key here as the plans to go along Skene Street would have been absolutely no use.
"It would have been a waste to miss out the sheltered housing as the residents use the bus to travel along the steep hill of Rosemount Place.
"I feared using Skene Street might have driven shoppers into the city centre which would have been a disaster for the traders, who we are lucky to have.
"Local knowledge has been important in forming these proposals, given the lack of consultation there was before."
Spooked by rumours, with no information coming from the council, retailers had initially warned changes to traffic management in Rosemount could cost jobs and devastate the area.
But they were much more relaxed having been briefed by the staff putting together the plans, noting "the gesture was sincerely appreciated".
The Scottish Government-funded Spaces For People work has already led to the partial closure of a number of city centre streets, with work planned for George Street, Victoria Road in Torry, North Deeside Road, Peterculter and Cults in the coming weeks.
Measures will remain in place until physical distancing advice is changed by the NHS.