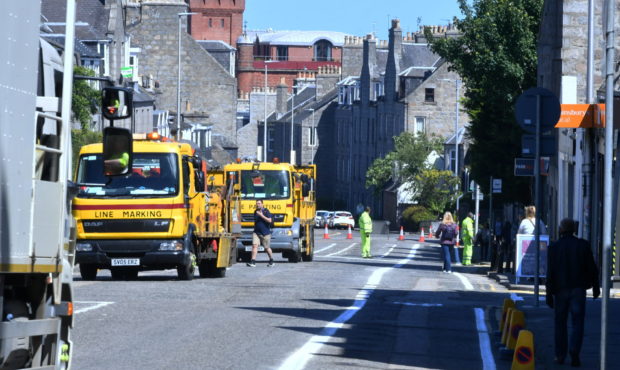 Major roadworks began in Aberdeen this week in the latest step to make busy pavements safer for people in the pandemic.
Three days of work began yesterday to install a one-way system in Rosemount Place, from Arygll Place to Mount Street.
Additionally, a cycle lane has been painted along Rosemount Place from Mount Street.
It will merge will a bus lane at top of Esslemont Avenue, where a bus gate will be set up to manage traffic.
Cyclists and buses will use this contraflow to continue up Rosemount Place towards Argyll Place.
The upheaval in the popular shopping street is part of the council's £1.76million Spaces For People project to make more space for pedestrians and cyclists to safely travel during the pandemic.
Roads planners have devised the measures to enable people to queue for shops and businesses, while still allowing room for others to safely pass.
The Rosemount scheme has been designed to negotiate around a potential bottleneck on the narrow pavement outside the Sainsbury's supermarket.
Buses have now begun diverted routes around the closure at the Mount Street junction, travelling along Skene Street and up Esslemont Avenue to rejoin Rosemount Place.
At first there was panic at the plans from Rosemount's independent traders, who feared the loss of parking could significantly impact their trade.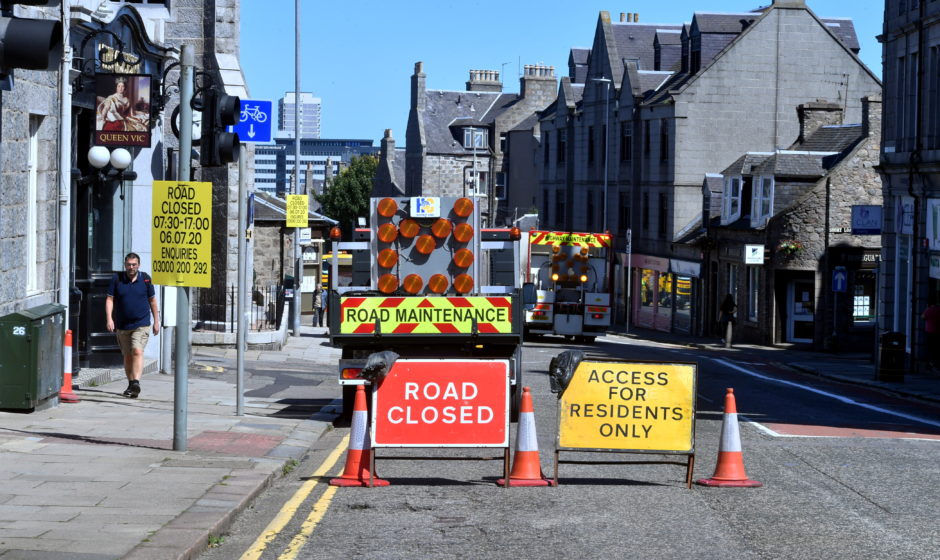 But through traders' association Rosemount Rocks, a number of business owners have been consulted on the plans, along with local councillors and community councillors.
Alan Watt, of Belvidere Gallery, said: "It is our job now to educate the public so they know how to get to our shops.
"There will be more 45-minute parking zones than usual but there's has not been a lot of compromise there.
"But we are accepting this is a pandemic and we have to work together.
"At least the council have been communicating with us, which is more than has happened elsewhere in the city."
Midstocket And Rosemount councillor Bill Cormie said officers had worked "extremely hard" to "vastly improve" consultation since initial complaints.
He added: "This is not a game we are playing here, this is people's health and their livelihoods."
Closures are also in place on a number of city centre roads, including a stretch of Union Street.
Distancing measures have also been introduced in Victoria Road in Torry, with plans being drawn up for George Street and the beach in the coming weeks.