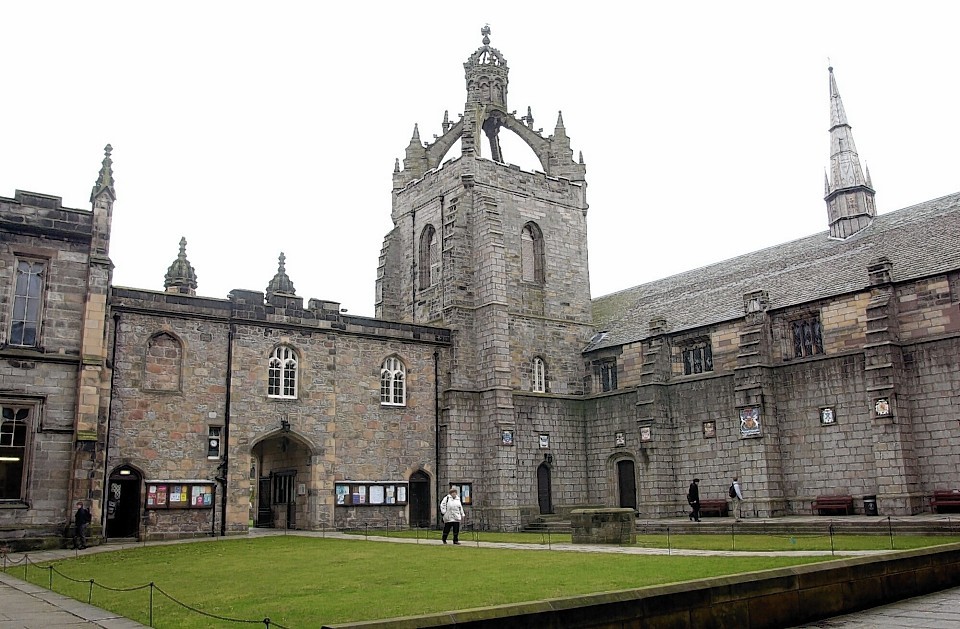 The word graduation traditionally conjures up the image of rows of students immaculately clad in black gowns, awaiting their moment to go up on stage and accept a scroll recognising their years of hard work.
But Aberdeen University's Class of 2020 has had to forego the usual pomp and circumstance of the occasion
Yesterday, gone was the anticipation of their name being called, countless photo opportunities with friends and family were missed and there was no chinking of champagne glasses on the lawn as youngsters waved a bittersweet goodbye to a life of essays, textbooks and deadlines.
But university chiefs were determined not to let the moment pass without recognising the efforts of this year's graduates before they make their way into a very uncertain world.
So, rather than lining up in rows surrounded by their contemporaries, the students instead curled up on their couch with their nearest and dearest to watch a special video presentation marking the culmination of their student years.
Aberdeen University principal and vice-chancellor George Boyne recorded a message telling students to forget their concerns for the moment – and to celebrate what they had achieved.
And he expressed hope that, at a later date, perhaps a proper ceremony could still take place.
Professor Boyne said: "Of course this year it hasn't been possible to conduct our graduation ceremonies in the conventional way due to the global pandemic.
"We still have every reason to celebrate the academic success that you've achieved.
"We have created a special video to mark the success and to mark the qualification that our graduates have achieved during their time with us.
"In fact, we think you have special reasons to celebrate their academic achievement this year because you have completed their studies with us during exceptionally challenging times.
"You've shown remarkable resilience and perseverance to get to this stage and complete their qualification.
"We still hope to have traditional graduation ceremonies at the university at a later date when the time is right. We hope you'll be able to join us with your friends and family here in Aberdeen to celebrate in the traditional way.
"In the meantime, on behalf of the entire university community I'd like to pass on my fullest congratulations. We are truly very proud of each and every one of you."
Several alumni then offered words of encouragement and inspiration.
Timipre Wolo graduated with a degree in oil and gas law in 2009, and has since become and advocate for women and girls as well as the chief executive of TFN Energy and the founder of the Centre for Gender Equality, Education and Empowerment.
She said: "Some of you may have a lot of questions about what the future holds but I want to remind you that with great struggles come great victories, and with great challenges come great opportunities.
"You have all it takes to win and bring about positive change in your community and the world at large."
The Duchess of Rothesay has been the chancellor of Aberdeen University since 2013.
In the film, Camilla urged all of those securing their degrees to head out into the world "with their heads held high".
She said: "As the chancellor of Aberdeen University I wanted to send my warmest congratulations to all of you on your graduation.
"As you face the future, I hope that you will all hold your heads high as a degree from the University of Aberdeen will stand you in excellent stead for whatever you hope and plan to do.
"May I wish you the very best of luck for the future and please stay safe."
Adam Porter graduated with a Master of Arts degree in history and politics in 1993 and is now a BBC radio journalist and BBC Radio 2 newsreader.
He said: "You're graduating in a different way to how you expected and in uncertain times but look on this as a way of demonstrating that you're able to cope with the unexpected – employers like people who are open to change so try to use these strange times to your advantage."