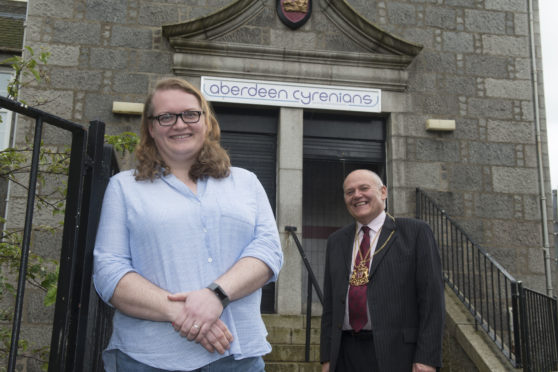 A dozen Aberdeen charities are to share more than £48,000 to help those worst-affected by the pandemic.
The pay-out from the Lord Provost's Charitable Trust Aberdeen Covid-19 Hardship Fund is the third and final round of cash.
Among the 12 charities to benefit from the latest funding award are Nepalese Himalayan Association Scotland, Northsound Cash for Kids, CFine and The Middlefield Community Project.
Aberdeen Cyrenians received £10,000, which will be used to source household appliances and utensils for vulnerable people moving during the crisis.
Community services lead Lynda Reid-Fowler said: "We'd like to thank the trust for their generous funding which will allow those living in temporary accommodation and moving into new flats during this pandemic the chance to leave an often very chaotic and challenging situation behind, and begin to build a new, safe home."
Meanwhile, Denis Law Legacy Trust bought food vouchers for needy families, as well as PPE, cleaning materials and sports kit to allow them to take up their youth engagement work across the city as soon as it is safe.
Employment charity Pathways is to using its funding to buy tablets for online training for the city's disadvantaged.
Aberdeen Women's Alliance, Tillydrone Community Flat, Aberdeen Foyer, Workers' Educational Association (WEA), and We Too! complete the list.
It is thought the money will help another 582 people, 820 families and 580 children.
Since the beginning of May, the trust raised more than £250,000 in donations, including two £100,000 contributions from The Seven Incorporated Trades Widows' Charity and Aberdeen's Common Good Fund.
Businesses and members of the public also contributed to the cause.
Overall, 39 charities have received funding to help a total of 5,088 people, 3,626 families, and 1,835 children.
The trust funded 23,920 meals, 5,806 food parcels and 15,000 fruit packs.
Trustees voted last week to end the appeal although donations are still being accepted.
Fundraisers will also be announcing other ways for people to continue to contribute soon.
The Lord Provost of Aberdeen, Barney Crockett said the response to the appeal had been "incredible".
Deacon convenor of The Seven Incorporated Trades Of Aberdeen, Mervyn Donald, added: "We hope we have managed to impact many lives in the local Aberdeen area, and we are inspired by the help of local businesses and individuals, we are very thankful to them for their donations and support.
"We have witnessed first-hand, the wonderful job that all these very deserving charities do and have been overwhelmed by their kindness during such a difficult time."
Contributions can still be made by contacting Garry Watson at the trust, by e-mailing lordprovost@aberdeencity.gov.uk