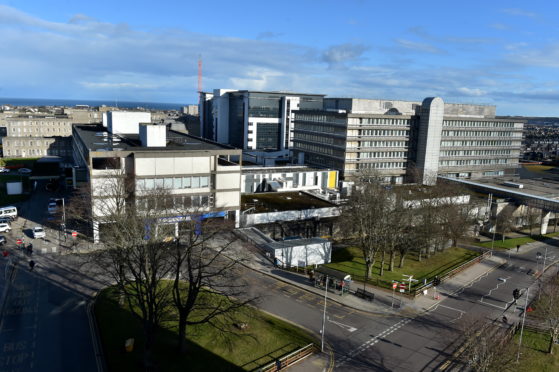 NHS Grampian has revealed a "remobilisation plan" to tackle cancer waiting times and increase Covid-19 testing.
The plan has been drafted to help the health board cover from the crippling impact of the pandemic and prepare for demand eventually increasing to pre-lockdown levels.
As well as increasing testing facilities across the north-east, the health board intend to create rest areas for staff at Aberdeen Royal Infirmary, Woodend and Dr Gray's in Elgin.
But the priority now is to reduce the backlog of cancer patients waiting for treatment by opening up operating theatres at ARI and Albyn Hospital.
Last year, NHS Grampian was among the worst in Scotland for cancer treatment within the "62 day standard", and although urgent treatment has continued during lockdown, efforts are now being made to catch-up on the cases that were delayed due to complications or patients potentially contracting Covid-19.
Almost 80,000 women across Scotland have suffered delays to breast cancer screening while routine NHS services shut down during the pandemic https://t.co/hq2H2VzpyF

— The Times Scotland (@thetimesscot) July 14, 2020
The plan states the health board will "ensure that there is sufficient capacity within our health and social care systems to accommodate the expected increase in activity in those urgent areas that were protected as part of the initial Covid-19 response (e.g. emergency care and cardiac/stroke/cancer services)."
It adds: "Our priority in the immediate period to July 31 will be to use all available theatre capacity at Aberdeen Royal Infimary and Albyn Hospital in order to reduce the backlog of cancer patients."
Last night North East MSP Mike Rumbles praised the work of NHS staff to reduce waiting times and support the region throughout lockdown.
But he added: "Or local healthcare services are still playing catch-up with other health boards around the country. This plan will hopefully allow NHS Grampian to take a step toward clearing some of that backlog.
"The effort put in by staff at NHS Grampian through these very difficult months has been nothing short of remarkable but that does not let the Scottish Government off the hook for years of incompetence, under-resourcing and failing to meet even its own funding target for the north east."
As lockdown restrictions begin to be lifted, the plan also promises to ramp up the Test and Protect scheme.

Current demand is averaging at 424 tests per day.
Since the scheme went live on May 28, there have been an average of 1.39 contacts to trace per case and more than 12,000 tests carried out in the region.
Health bosses also hope to create rest areas across the region to help support struggling NHS staff take breaks.
The facilities will be available at ARI's Emergency Department, Royal Aberdeen Children's Hospital, Aberdeen Maternity Hospital, Woodend Hospital, Royal Cornhill Hospital and Dr Gray's in Elgin.
The plan states: "All of us have had many moments of quiet reflection and our thoughts are with those families who have suffered personal loss at this time. Their lives and memories should never be forgotten."
Members of Aberdeenshire Council's integrated joint board will meet next week to discuss the plans.
A Scottish Government spokeswoman said: "Throughout this pandemic NHS Scotland has remained open.
"While non-urgent activity was paused in March, health boards have continued to provide emergency, urgent, cancer and maternity care, support for social care as well as maintaining Covid-19 capacity and resilience.
"As we begin to resume some paused NHS services safely, carefully and in a series of stages, the mobilisation recovery group will help us balance patient and staff safety and NHS Scotland's ability to respond to the virus.
"Pausing non-urgent activity has inevitably led to a build-up of numbers waiting for appointments and treatment.
"We will work closely with health boards to minimise delays going forward, supported by the actions set out in local remobilisation plans."
North East MSP Tom Mason added: "Lockdown has been a vital measure to save lives and protect the NHS.
"But it has come at a cost to many other health services, which will take a long time to fully comprehend.
"A massive logistical and human effort will be needed to clear Grampian's cancer surgery backlog.
"All possible staging posts have to be considered so the fight-back can begin."