A community leader has claimed that changes made to roads in an area of Aberdeen have "not got a hope in hell of working".
Chairman of George Street Community Council, Andy Macleod, warned of "log jams" of traffic in surrounding streets as city council staff yesterday rolled out temporary physical distancing measures in the area.
The work is part of a city-wide £1.76 million project to make room for people to safely distance from each other during the pandemic by widening the pavements.
The Spaces For People changes include a one-way system in George Street, from Maberly Street to the top of the pedestrianised zone at St Andrew Street.
A significant number of parking spaces will also be removed to make way for the temporary measures in the shopping and residential area.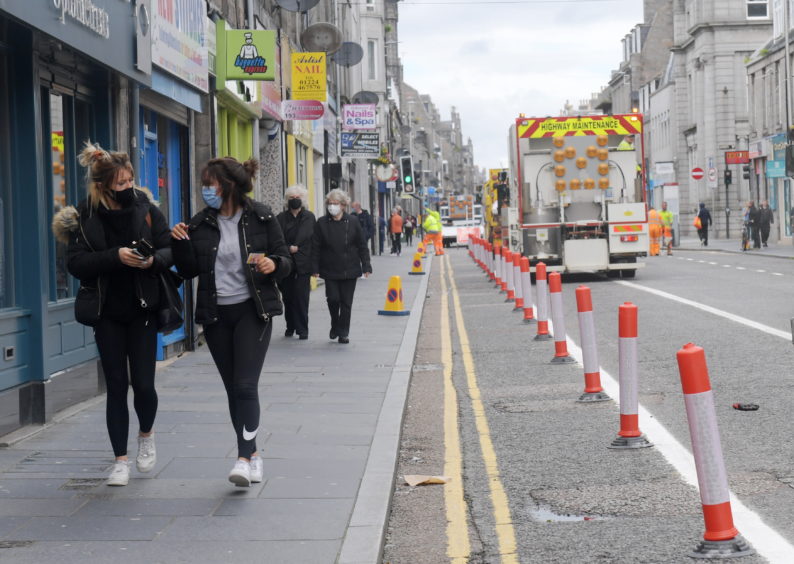 However, most of the concern is for around the corner in Maberly Street, where motorists will only be able to drive eastwards from Skene Square to George Street, while another one-way system is being put in on a stretch of Charlotte Street.
A number of cycle lanes have also been installed in the area with northbound bus routes diverted along Loch Street.
Council bosses have also extended the city centre 20mph speed limit zone to include surrounding streets as far as Skene Square and Hutcheon Street.
Mr Macleod pleaded with the council to halt its plans earlier this month, asking for traffic to instead be sent up Maberly Street westwards in a bid to avoid traffic headaches.
As the head of the community council he was promised a response by officials– but nearly two weeks later has heard nothing.
"It's not got a hope in hell of working in Maberly Street – I am very doubtful it can," he told the P&J yesterday.
"I want the shops to be as successful as they can be and I certainly don't want people getting ill.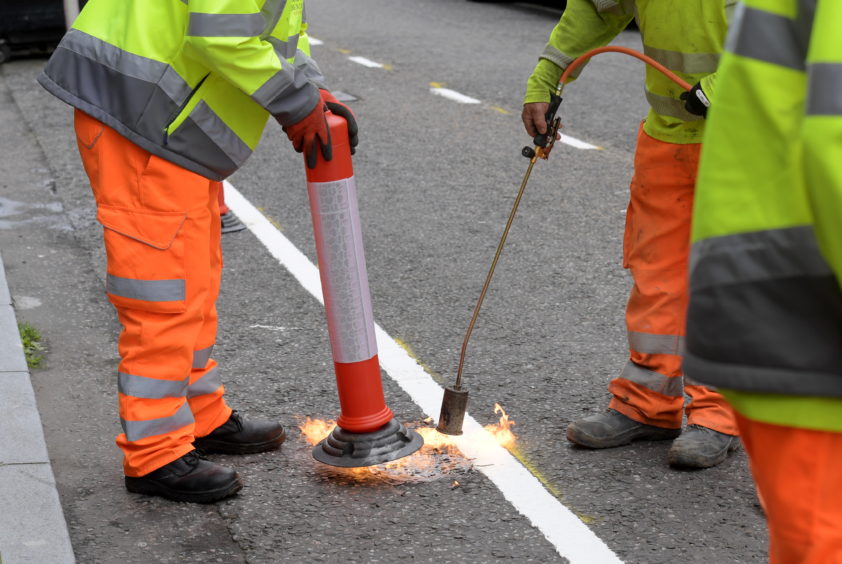 "We just want the best for the area and those who live and work here.
"I hope it does work but also that the changes are made in a way that can be revised very rapidly."
The work has proven contentious elsewhere in Aberdeen, with businesses in nearby Rosemount last week warning jobs were at risk and lives in danger as the one-way system had made the road "a racetrack".
An Aberdeen City Council spokeswoman said: "We will be in continued discussions with the local community council and businesses for their input for the George Street area Spaces for People work to allow pedestrians to physically distance.
"We are looking to balance the needs of all whilst allowing opportunities for physical distancing at the busiest parts of our retail centres.
"Additional pavement space has been created at the corner of George Street and Maberly Street to accommodate safe passing and queuing of pedestrians at the access to Sainsburys and the pedestrian crossing points.
"This increased pavement width can only be created from carriageway space, which narrows the carriageway width making two lanes of travel impossible.
"The one way is supported by a contraflow cycle lane and provides the opportunity to increase the parking along the route helping to balance the parking provision in the area.
"We're aware we cannot keep everyone happy as something that works for one business or residents may not work well for another.
"We will continue to have dialogue with local businesses, stakeholders and residents and to review the measures once they have had an opportunity to get established."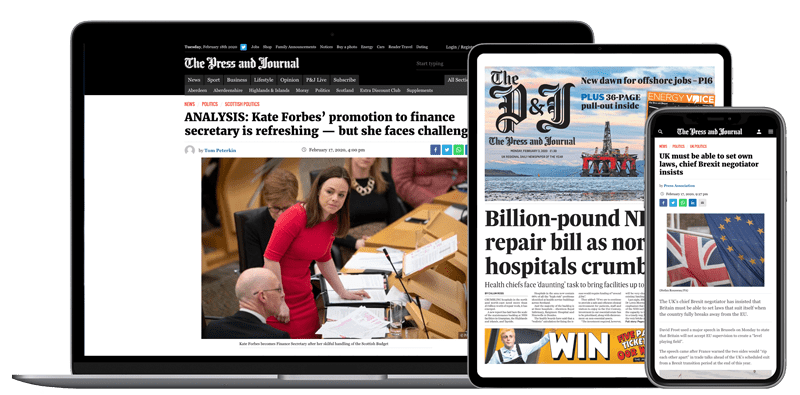 Help support quality local journalism … become a digital subscriber to The Press and Journal
For as little as £5.99 a month you can access all of our content, including Premium articles.
Subscribe