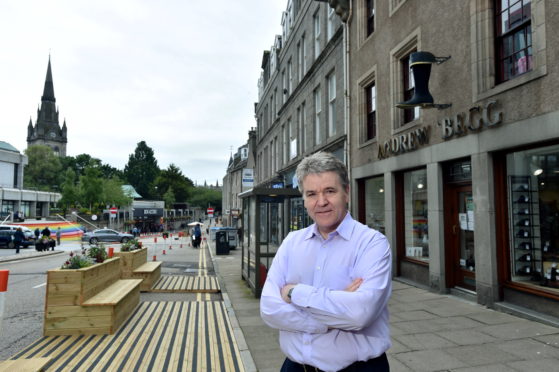 An Aberdeen retailer has called for more to be done to help shoppers navigate a growing "maze" of temporary road changes introduced in the name of physical distancing.
Andrew Begg claims his Upperkirkgate shoe shop and other city businesses are in jeopardy due to the widespread alterations, as disillusioned customers are driven elsewhere by confusion as they try to find parking.
The council has undertaken a £1.76 million project to widen pavements, set out cycle lanes and create room for queuing, while maintaining the 6.5ft distancing requirements.
The Scottish Government-backed Spaces For People initiative has already brought about change in Upperkirkgate and nearby Schoolhill, as well as in Union Street, George Street, Rosemount Place and Torry's Victoria Road.
A number of main routes have been closed or made one-way to make way for those on foot, which public health bosses have warned is crucial to avoid a spike in cases of coronavirus.
Restrictions will last as long as physical distancing is advised.
But while acknowledging there is a need to make streets safe, Mr Begg has hit out at the difficulty all will face to find their way to a car parking space.
The long-serving owner of the Andrew Begg shoe shops compared efforts to navigate the changing city streets to an episode of the long-running TV quiz show The Krpyton Factor.
He says potential customers from all over the north-east face a mental agility challenge to park their car, which could be contributing to his sales this month being half of last July's.
Mr Begg said: "Don't get me wrong, I'm not saying these measures should not have been put in place.
"What I am saying is there is a lack of joined-up thinking in the flow of traffic and pedestrians and the council is only now asking the question after they have already caused the problems.
"I understand the reasoning behind it but easily understandable access should be paramount – and nearly every day I come into work there has been another street narrowed to one-way or closed.
"A quick meeting with businesses like mine could have helped them come up with a slightly better solution but it seems those making decisions are only listening to the big guys and not the smaller traders."
Last night the local authority committed to producing a map of available parking in Aberdeen, hoping to address Mr Begg's concerns.
In recent months, anger has erupted in many of the city spots affected by the council's physical distancing work, with traders in the city centre and the West End the first to speak out after roads were closed in haste.
The council carried out limited consultation on the first Spaces For People work, claiming the emergency nature left little time to invite local input on the plans.
Measures have been altered since, and more community feedback was sought before Rosemount Place and George Street were changed.
But still, traders have voiced concern for their livelihoods and warned one-way systems are encouraging speeding, making some roads akin to racetracks.
A council spokeswoman told The P&J: "The Scottish Government and the NHS have asked councils to help to prevent a second spike of coronavirus by installing measures through the Spaces for People scheme to allow pedestrians to physically distance.
"Physical distancing is one of the most important measures we can all do in the fight against the virus.
"Council officers have and will continue to engage with community and business groups to make changes where a better solution can be found which achieves the public health benefits while not overly inconveniencing businesses and residents.
"We are producing a map for our website and social media to show people where all the car parks are in the city as almost all – public and private – are open as usual."
Plans are being drawn up for more change across the city, including dedicated cycle lanes at the beach and from Hazlehead to Rosemount.
Meanwhile hundreds of people have already expressed opposition to proposals for the North Deeside Road shops in Cults, over fears of what the loss of parking there could mean for businesses.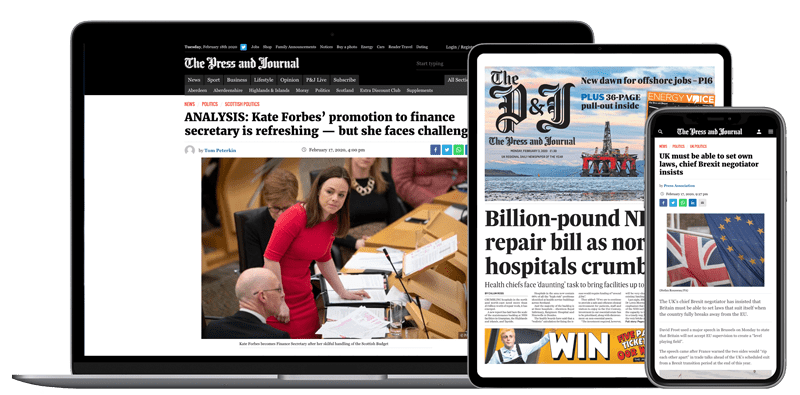 Help support quality local journalism … become a digital subscriber to The Press and Journal
For as little as £5.99 a month you can access all of our content, including Premium articles.
Subscribe