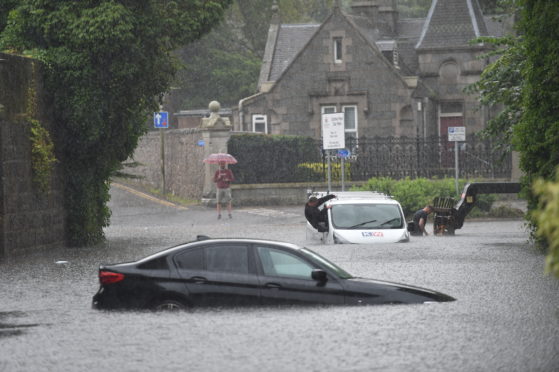 People were evacuated from their swamped homes as flash-flooding caused chaos in Aberdeen yesterday morning.
The fire service was inundated with calls from across the city as a torrential rain fell throughout the early hours, with cars left stuck in pools of water and concerns being raised for homes in flooded areas.
Crews were going door-to-door in the worst-affected streets, transporting residents to safety on a rubber dinghy.
A number of buildings were badly hit by the storm and part of Aberdeen Maternity Hospital had to be evacuated due to the heavy rain.
One of the postnatal wards, the Summerfield Ward, was left damaged.
An NHS Grampian spokesman yesterday said: "All affected patients have been relocated appropriately within the rest of the maternity hospital.
"Although Summerfield Ward will remain closed for the rest of today, Aberdeen Maternity Hospital remains open, providing care which is appropriate and safe.
"Visiting arrangements are not affected and remain the same with birth partners able to attend during child birth, but otherwise visiting remains suspended."  ​
Animals at Mrs Murray's Cat and Dog Home near the beach had to be relocated as kennels flooded.
Employee, Laura Frąckowiak, said all of the dogs for re-homing had to be moved into other kennels.
She added: "The flooding ruined a lot of blankets and food but we have been inundated with phone calls and emails from people offering to help out with donations.
"It is just the clean up we have to do now but the dogs are dry and that's the main thing."
Businesses were left heartbroken across the city as flooding ruined shops and charity bases.
Four Pillars, an LGBT+ charity, was this week "delighted" to  announce its new home after being forced out of Aberdeen Market following its recent closure.
But bosses yesterday awoke to discover that it had been destroyed by the storm.
Delight as LGBT charity finds new home after Aberdeen Market debacle
Deejay Bullock, community relations manager of Four Pillars, said they did not yet know the extent of the damage.
He said: "We just announced our new venue in the P&J and now this.
"It has put us back a little, we knew we wouldn't be able to open in September as we had planned but this is an added stress.
"We're waiting to see the extent but the basement flooded and the ceiling caved in as the flat above also flooded.
"We will probably have to get people in to fix it – everyone around us is the same as well."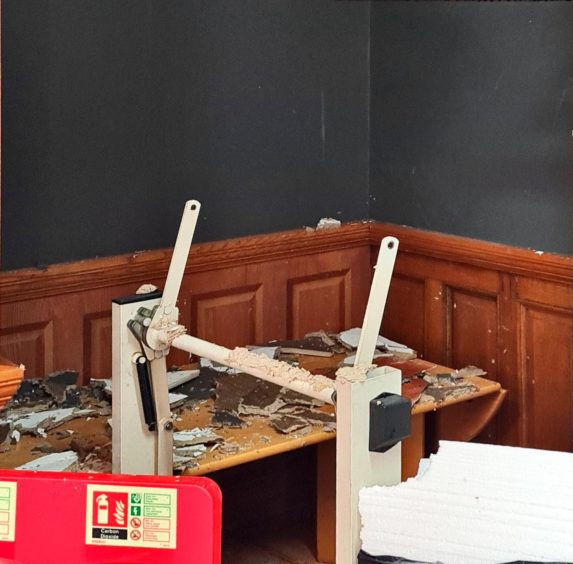 The Bon Accord Centre was also affected and closed its doors to customers until it was safe to reopen.
Craig Stevenson, Centre Manager said: "Bon Accord took the decision not to open this morning due to flooding caused by the heavy rainfall in Aberdeen.
"Bon Accord has now reopened to the public, and we would like to thank all of our staff and retailers for their hard work."
Kevin Stewart MSP has written to  Kate Forbes MSP, cabinet secretary for finance, to ask that she considers activating the Bellwin Scheme to allow Aberdeen City Council to apply for special financial assistance to cover the costs of damage.
Mr Stewart said: "Aberdeen awoke to scenes of cars floating around the city centre, businesses devastated by flooding and homes swamped with water – the full scale of the damage is yet unknown, but this will undoubtedly be disastrous for many folk throughout the city at an already extremely difficult time.
"I've written to Kate Forbes to ask that she considers activating the Bellwin Scheme to provide assistance to Aberdeen City Council in the aftermath of this storm.
"In the meantime, folk need to keep their wits about them and be vigilant around the immense levels of water flowing on our streets."