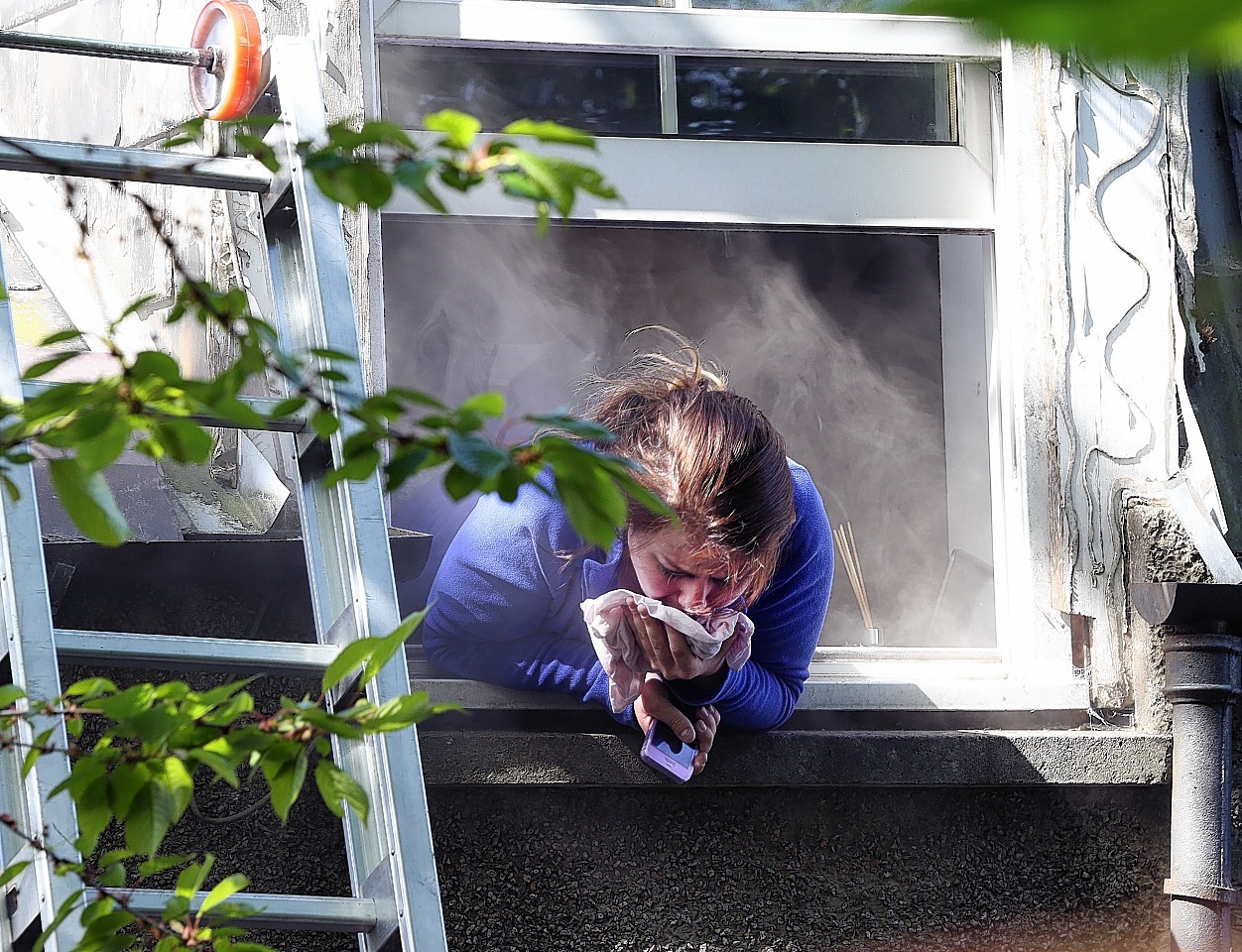 A terrified nurse had to be rescued by firefighters yesterday after a ferocious blaze engulfed a flat in Aberdeen.
This dramatic picture shows the moment Rachel Elder with her face in a cloth waiting to be rescued as flames ripped through the property below.
The 23-year-old, who had been on a day off work, held her head out of the window as she desperately gasped for air.
Firefighters had to smash down the door to bring Miss Elder and her pet dog Minnie to safety – and she later insisted that they take her scared pooch out first.
Last night her relieved boyfriend, Hamish Renfrew, said she was lucky to be alive.
She escaped without serious injury, but was kept in hospital overnight to be treated for smoke inhalation.
Mr Renfrew, a sales manager, had been in a meeting when he received a frantic phone call from his partner, screaming that the building was on fire and she was trapped.
"The meeting was dropped," said the 28-year-old.
"She said she smelt smoke and could see it coming under the door, then the alarms went off.
"There were people shouting from the street that there was a fire, but she couldn't get out because of the smoke.
"She stuffed a duvet at the door to stop it coming in.
"She was seriously scared, but thankfully is OK. She was more concerned that the firemen got the dog out first."
Two appliances from North Anderson Drive and two from Central Fire Station were called to the building on the Spital, Old Aberdeen, at around 3.35pm.
It is understood the fire started in the flat downstairs, which has been vacant for the past eight months since the owner died.
Police and fire officers are investigating exactly how the blaze started.
Mr Renfrew said his partner had been watching television when she realised something was wrong.
"It was just as well she was awake when it started – if she was asleep she would have been finished," he said.
Firefighters were going to use a ladder to pull Miss Elder through her window to safety.
But she was able to escape the building down a set of stairs with the help of two firemen and an oxygen mask.
She made sure Minnie – a cross between a miniature poodle and a Bichon Frise – was taken outside first.
Worried bystanders watched as Miss Elder was treated on the street by paramedics.
She was taken to Aberdeen Royal Infirmary, and will be released today following checks.
Minnie was taken to a neighbours house, where she is safe and well.
"Minnie doesn't seem phased by it at all," said Mr Renfrew.
"She smells a bit smoky – so does Rachel – but she's quite happy."
The ground floor flat where the blaze is believed to have started has suffered extensive damage and police remained at the scene last night as they carried out their investigations.
However, the couple's flat escaped with smoke damage.
Mr Renfrew said: "Rachel was extremely lucky. Things could have been much worse.
"We are extremely grateful to the fire crew who got them out safely."