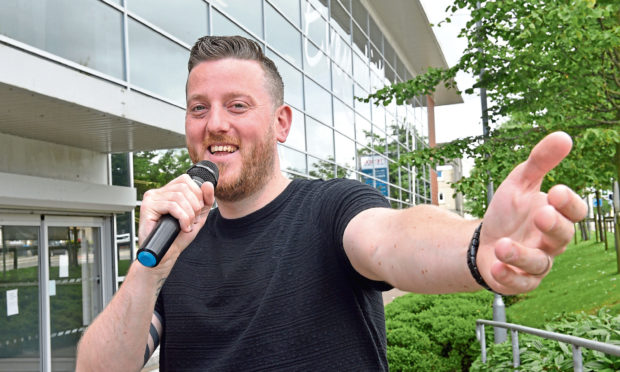 Going to the supermarket has never been a favourite activity – and particularly during a pandemic.
Cast your mind back to the dreaded panic buying in March, and the lengthy queues just to get inside the store. From standing two metres apart to following a one-way system, the food shop became an ordeal for many.
And yet at one store in Aberdeen, customers found something to smile about. As they shuffled forward during the one-in, one-out policy, music started to play. A voice crooned across the car park, soaring in time to the beat.
Singing was nothing new for customer assistant Danny Collie, who had previously performed in a band. But this time, people were relying on his talent to lift their mood.
No matter how bleak life might have seemed, a few verses from the dad-of-two and the day seemed that bit more bearable.
Danny's impromptu performance went viral, and he has finally started to believe in himself. The former oil and gas worker now hopes to make it as a professional singer in the competitive industry, and says the pandemic has changed his perspective on life.
Although Covid-19 has had devastating consequences around the world, it has also enabled people to finally press pause. To take a step back and look at their life, before pursuing something entirely new.
From taking the plunge and becoming a stay-at-home parent, to quitting a lucrative industry for more flexible hours, we spoke to people who have made major life changes as a result of the coronavirus and the subsequent lockdown.
Danny Collie
Danny loved to sing from a young age, after watching his dad take to the stage at karaoke sessions during family holidays.
Although Danny, who lives in Craigiebuckler in Aberdeen, was previously part of a band, he never saw himself performing in a Tesco car park.
He worked for a company that decommissioned oil rigs and, at that time, suffered mental health issues.
"It was a horrid time, and I hadn't long returned to work when I was told I was one of five people to be laid off," said Danny.
"I found another job in oilfield equipment, which included a lot of travel abroad.
"But before I could start, Covid happened and I found myself out of work."
Danny's youngest son was born in February, and he wasted no time trying to find work to support the family.
"I needed to keep the wolf from the door, I had a wife and two small children to support," he said.
"I started working as a customer assistant at Tesco, and there were actually quite a few people who I knew from the oil and gas industry working alongside me.
"When my boys are older and they ask me what I did during the pandemic, I want them to see that I had humility.
"It is my job to welcome people to the store and chat to them about the procedures in place, particularly when there was a queueing system.
"A few customers said there should be music or something, and that's when I jokily said I might know a guy."
Danny had also sung in care homes, and revealed his passion for music to customers.
"My manager was stood right behind me and said If I wanted to knock out a few songs I should have a go."
So Danny took to the floor, or rather the tarmac, and cheered up anxious customers throughout lockdown.
Although he describes himself as a "realist", he is hopeful that this could be the start of a new career.
"I would love to sing as a profession," he said.
"I'm actually waiting to find out if I've made it on to the live shows of The Voice after auditioning; I should be told in September.
"The pandemic has made me realise that I was putting so much pressure on myself, which contributed towards my mental health.
"Now my focus is on my family, and my singing, of course."
Keira Herbert
Keira Herbert worked in oil and gas for eight years, having gone into the industry after she left university.
She enjoyed her job as an organisational change consultant, advising on employee empowerment. But after anticipating that the company would be hit by redundancies due to Covid-19, Keira decided to fulfil her childhood dream.
She can now be found making sweet treats at her kitchen table, although she is already in the process of setting up a commercial kitchen.
Despite having only started her business, Flump & Fudge, at the beginning of lockdown, her produce is already stocked by several shops across Aberdeenshire.
Keira can sometimes work till midnight to get orders out on time, but says she has never been happier.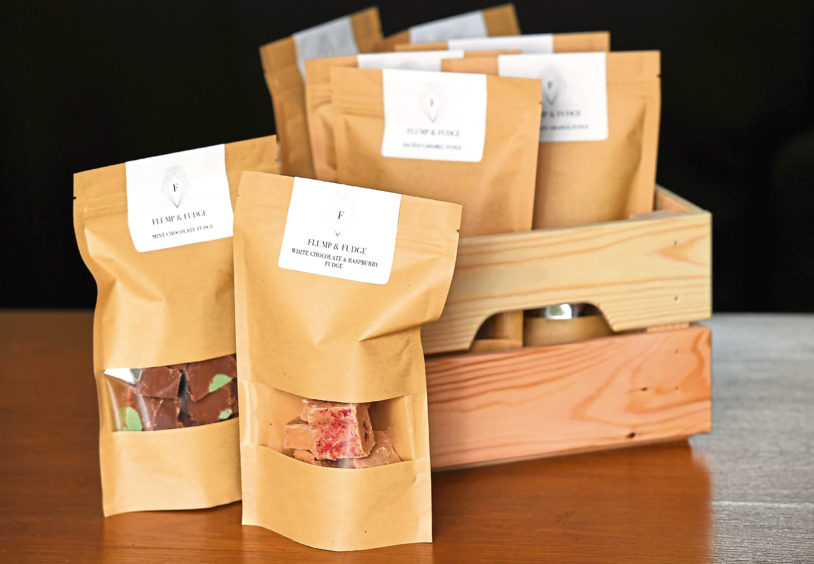 "Ever since I was a little kid, I loved anything sweet and I really enjoyed baking," said Keira, who lives in Bridge of Don.
"Just being in the kitchen – there was something I loved about it.
"I always made little things for friends and family, but that is as far as it went really.
"I had spent three years in my most recent role, and for the most part I really enjoyed my job. The business had gone through some structural changes at the end of last year. When Covid hit, it was clear to see there would be more redundancies. I was put on furlough and told I would be made redundant by May."
Instead of feeling sorry for herself, Keira decided it was time to get busy. She believes that furlough gave her the time to set up her new business in the first place.
"It was pretty scary, I took this huge leap of faith," said Keira.
"It was a big jump, but it was exciting. I was furloughed quite early on, which meant I finally had time on my hands. So I put my all into it.
"I think it helped that people were looking for something nice that could fit through the letter box for relatives and friends.
"At the moment I'm working in my kitchen, but my house is quite small, so I'm in the process of fitting out a commercial kitchen.
"Were it not for Covid, I don't think I'd have pushed quite as hard. I wouldn't have put the same amount of effort in; it would have continued to be a side hustle."
Keira's products are currently stocked at Marshall's Farm Shop in Kintore, near Inverurie; Kepplestone Farm Shop at Bucksburn; and Corner Tree Cafe in Aberdeen.
"As much as this is hard work, I'm really seeing the benefits," she said.
"The day passes in a blink of an eye, even if I am working till midnight to keep up with demand.
"I am 100% happier, I'm so glad I took the plunge."
Natalie Pinnell
Mum-of-two Natalie Pinnell already ran a successful business, but went on to double her profits thanks to Covid-19.
Her family has gone through some major changes as a result, and her husband, Grant, is now a stay-at-home dad.
Natalie, who lives in Aboyne, launched her virtual assistant business four years ago. She believes that home working has caused people to realise the value of a virtual assistant.
"All my clients were in the US, it wasn't as popular or prevalent in the UK," said Natalie, who used to be a personal assistant in the oil and gas industry.
"I knew I couldn't give my all to that career after having my second child. I was so split down the middle.
"Then I launched my business in 2016 and realised that it gave me complete freedom to be a mum, but also to have something for me.
"I think companies have finally woken up to the fact that remote working is a thing. You miss out on such good employees if you don't embrace it.
"Our revenue doubled and it was a crazy time, because I also launched a second business during lockdown. It's a training course of how to start your own virtual assistant business.
"A lot of people are struggling for work and with childcare, so I thought this was a great solution."
With Natalie's work taking off, the family made a huge decision.
"I was just about surviving, juggling work and childcare," said Natalie.
"I knew business was going to be crazy, but I had to take a moment and think, well do I let this flourish?
"I couldn't be a full-time mum and a full-time worker, I couldn't do everything.
"Grant is a police officer and his work obviously couldn't offer a reduction in hours. So he'd come home off shift and take over from me.
"We had a choice, it was his career or mine. Financially, it didn't make sense for me to step back.
"There were some huge discussions to be had, as Grant has been in his career for 11 years.
"It wasn't a decision to be taken lightly, and there is far less job security when you are self-employed.
"In the end, Grant took a career break of three years so he can be a stay-at-home dad. It just seemed too good an opportunity to miss.
"Oh my goodness, the kids have loved it.
"Everyone is so much more happier, and there is a lot more flexibility in our lives.
"It really is amazing."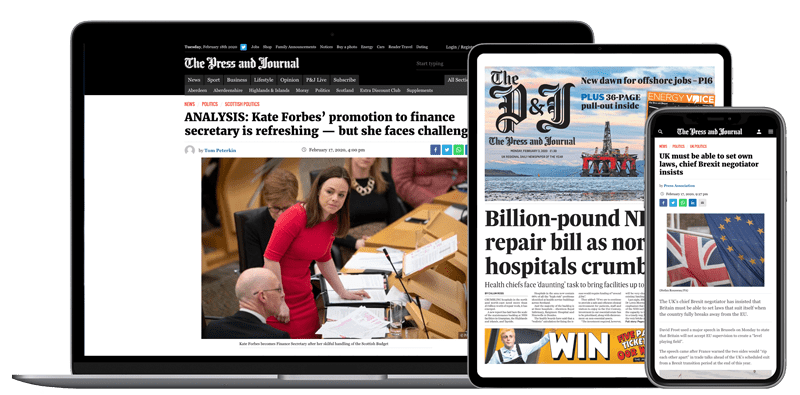 Help support quality local journalism … become a digital subscriber to The Press and Journal
For as little as £5.99 a month you can access all of our content, including Premium articles.
Subscribe