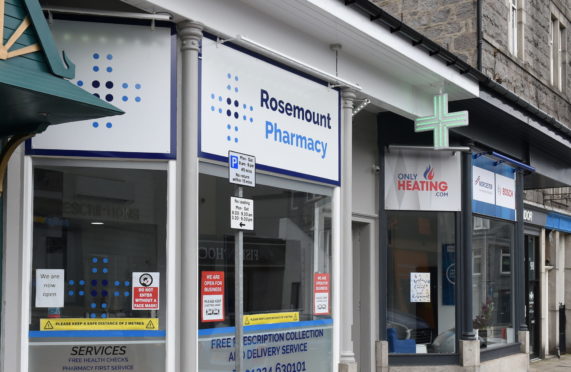 Complaints of anti-social behaviour are being probed after a chemist that serves as a major dispensing centre for Aberdeen's recovering drug addicts was cleared to move to much smaller premises during the pandemic.
Residents living close to the new site of Rosemount Pharmacy have voiced concerns after seeing methadone users medicating in the popular shopping street.
The new shop, at 102 Rosemount Place, is a smaller premises than the previous unit on the corner of Mount Street.
Having moved during the pandemic, new limits have been placed on the people arriving for their medication to enable safe distancing, meaning only two can enter at a time.
Concerns have now been taken to Aberdeen City Council, which sent Trading Standards officers to visit the store earlier this month.
Nearby residents had accused the pharmacy of dispensing medication in the street, prompting attention from the industry regulator too.
But those who are legally required to be supervised taking their medication were found to be treated in the shop.
Others receive their methadone in a bottle to take at home.
It is feared it is those patients who have then been seen taking it in the street, without the knowledge of staff.
Pharmacy bosses were given advice on ensuring physical distancing in the queue outside after complaints for passers-by.
They have now agreed to put up signs and mark the pavement outside to show 6.5ft distancing – as well as increasing efforts to have patients arrive at staggered times.
Midstocket And Rosemount councillor Bill Cormie said the problems with the clientele of the chemist had been long running, but they had previously been "out of sight".
Speaking to Rosemount and Mile End Community Council, he laid the blame at the planning process that allowed the conversion of the former pizza takeaway.
Mr Cormie said: "It's obviously difficult as people with addictions have got to be treated, but this chemist takes patients from right across the city.
"This is what you get with delegated powers – as anyone with local knowledge would have known about the problems we have had with the chemist before it moved from Mount Street.
"The trouble is, this is not new – it was just more contained down at Mount Street because it was out of sight for years.
"It's now in the heart of Rosemount, and after they take their medication they go round the back of a nearby nursery."
Officers granted permission for the move as it was in line with the law, meaning there was no need for councillors to discuss the plans.
"In my opinion they should never have been allowed to move to the new shop," Mr Cormie added.
Fellow Midstocket And Rosemount councillors Jenny Laing and Tom Mason vowed to work with Mr Cormie to "find a resolution" with the relevant authorities.
Mo Hameed, operations manager with shop's owners, said: "We recently took over Rosemount Pharmacy as the new owners some months ago.
"The previous premises lease was coming to an end, the aim was to make access as convenient as possible for all patients and due to legal reasons we were limited to how far we can relocate a pharmacy.
"It is for this reason we moved 30 seconds up from the old site to our new premises directly in front of the Sainsbury's Local and have worked tirelessly to ensure that the new premises supports our local community.
"We would like to work with the residents of Rosemount to alleviate any concerns that they may have.
"In relation to claims that we dispense medication on the street, this is simply incorrect  and we have been liaising closely with our unsupervised methadone patients to ensure that users are not administering any medication on the street.
"We have had strict measures in place during the pandemic and have further reinforced these with updated coloured signs and various other changes.
"We are working with trading standards and our regulatory body who appear to be happy with the measures we have in place.
"We take great pride in what we do, as a community pharmacy we look to support the residents of Aberdeen and to ensure that a safe and dignified approach is taken when treating all patients.
"I would ask anyone who has any concerns whatsoever to get in touch."