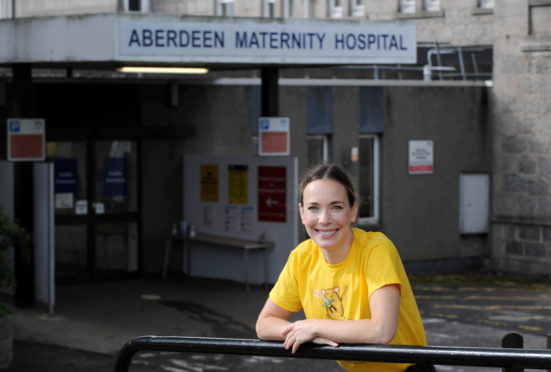 Call the Midwife star Laura Main has been appointed as a patron of the Archie Foundation.
The Aberdeen-born actress plays Shelagh Turner in the popular BBC drama and was "thrilled" to help support the children's charity.
"I sort of couldn't quite believe I was being asked to be a patron," she said.
"I was in the children's hospital before Christmas, when I played the Fairy Godmother, and it was quite an emotional experience and really rewarding.
"What really stood out was the love from the families, no matter the circumstances.
"Archie do an incredible job of helping them and making that experience a little better for each family."
Miss Main is hoping she will be able to visit sick children in the hospital again within her role as patron to try and spread a little good cheer.
The charity provides support babies, children and their families across the north and north east of Scotland.
It also encompasses Friends of the Neonatal Unit, based at Aberdeen Maternity Hospital, which funds vital equipment to ensure the unit can provide the best possible care for babies born prematurely or in need of medical intervention.
Director of fundraising for The Archie Foundation, Paula Cormack, said: "Laura is a really natural fit for the charity and her personality and of course her profile will bring so much to The Archie Foundation.
"We feel really honoured to have a star in our midst and are very much looking forward to working with Laura to help make the difference for babies, children and families affected by illness and of course also for the wonderful NHS staff who support them."
A keen supporter of children's charities, Miss Main also won the coveted golden Pudsey Bear trophy in a Call The Midwife Strictly Come Dancing Special for Children in Need in 2015, when she performed the jive to Tutti Frutti with Brendan Cole.
The 39-year-old travelled to Aberdeen from London just one day before lockdown was announced so she was able to spend it with family.
Season 10 of Call the Midwife is due to begin filming again, so she will make the long drive back in a few days.
Although very "excited" to get back to work, the moment is bittersweet.
"I feel unbelievably lucky to have work as it's difficult for so many people just now," she said.
"I'm just about to leave Aberdeen and that's always tough. It's home.
"My parents are here and my sisters, nephews and niece. It is hard to leave family.
"Equally, I'm just so glad to be re-entering society and getting back to work in a job I absolutely love."
In a message to supporters this week, Archie Foundation chief executive David Wood said the pandemic had presented "a significant challenge" to the charity, with its income "severely impacted".
He said that had forced the charity to "take some very tough decisions" with "much of the support that we provide hanging in the balance".
But he also highlighted the resilience of staff and the creative ways they have found to continue providing vital support to families though an array of projects.