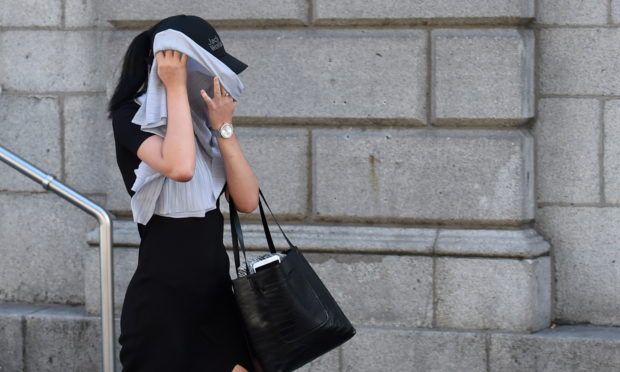 An Aberdeen woman has been ordered to pay £5,000 in compensation to a woman she left permanently scarred in a drunken bar attack.
Amy Walker's smashed a glass into the face into the face of a fellow customer of O'Donoghues on Justice Mill Lane, Aberdeen.
Her victim needed 32 stitches.
The 24-year-old admitted having drunk too much alcohol before launching the attack in the early hours of Sunday, November 3.
Aberdeen Sheriff Court heard yesterday that Walker's victim had been left anxious and suffering flashbacks over the incident.
Fiscal depute Katy Begg said the woman also continued to suffer pain from the attack and is "scared" of playing with her children for fear of being hurt again.
Ms Begg told the court: "Inside the bar, the complainer had recognised a male and began chatting.
"He said to her 'My bird wants to speak to you'.
"The complainer did not know Walker, who was shouting 'You've got a problem with me'."
Walker then used her right hand – in which she was holding a glass – to punch the woman in the face.
After being removed from the premises, the pair were seen "struggling" with each other outside before Walker ran off.
Her victim was left bleeding heavily and requiring stitches in hospital and has been permanently scarred from the attack.
Walker's solicitor, Alex Burn, said the incident was the product of a "coming together" of two groups, and claimed the atmosphere between them had become "somewhat strained" and "antagonistic".
He said: "This was not a planned attack and it was one strike which, unfortunately, had significant consequences.
"She is ashamed of her behaviour.
"Since this, she has become withdrawn and seldom goes out. This has had a damaging effect on her and on the complainer."
Mr Burn said Walker attended a police station with her parents the following day to confess the assault, to her victim's severe injury and permanent disfigurement.
She has since quit her job and moved to Edinburgh.
Sheriff William Summers told her: "It was a nasty assault with significant consequences and is it clear the injuries caused have had a profound impact on your victim."
He ordered Walker, of Gilmour Road in Edinburgh, to pay her victim £5,000 in compensation and complete 200 hours of unpaid work, all within the next year.
Walker has also been placed under the supervision of social workers for 18 months.