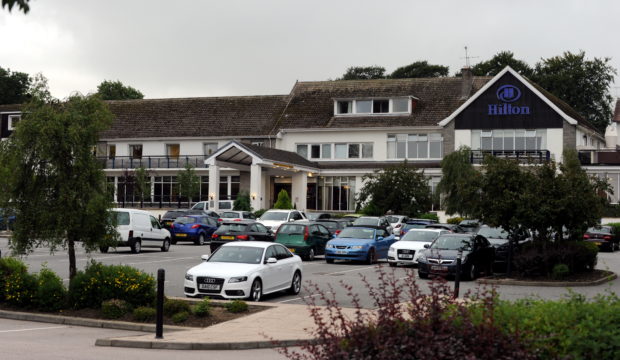 A "landmark" former Aberdeen hotel could be flattened to make way for hundreds of homes.
Malcolm Allan Housebuilders has purchased the former Hilton Treetops on Springfield Road, which closed suddenly in February.
Last night one of the Kintore firm's directors said plans for the 6.75-acre site are at a "very early" stage, but could involve the demolition of the hotel, which opened in 1964.
Earlier this year, The Press And Journal reported a number of property developers had been eyeing the site – thought to be worth upwards of £6 million.
It was said the land would be able to accommodate around 100 houses, or potentially three times as many flats.
More than 70 members of staff were made redundant at the Treetops when its owners announced it would cease trading "immediately" in February.
They blamed "difficult trading conditions" for the move, though they said there was potential for the venue to reopen in the future.
But Bruce Allan, a director at Malcolm Allan Housebuilders, said: "It is pretty much trashed inside for use as a hotel.
"I don't see it coming back to that use again."
Mr Allan said the company is currently in the "very early" planning stages with regards the site, adding that the building's potential demolition is something "we are considering".
Ward councillor Martin Greig said locals have been anxious waiting to see what may become of the former hotel.
He said: "The Treetops is a major landmark in our area and the community remains concerned about the future use of the building.
"Local people have asked if this large area will eventually have a new and different use such as flats.
"It is a huge site and has the potential to deliver a considerable increase in housing.
"Residents may have concerns about the impact such a development could have on the surrounding roads and traffic."
Concerns were also raised regarding safety at the site following the discovery of an online video in which "urban explorers" illegally entered the building.
The YouTube clip had been filmed earlier in the summer and uploaded at the start of August, before the site changed hands.
Since purchasing the land, Malcolm Allan Housebuilders have tasked a security team to patrol the site.
Derek Neilson, Apardion's head of operations, said: "There are currently no issues with security at the site.
"The building is due for demolition in the next couple of months, so it is not safe.
"It is highly irresponsible for people to be entering this building and I would strongly recommend against it for their own safety."
THE HISTORY
First opening in 1964, the Treetops was most recently operating as a franchise of Hilton's Doubletree brand.
Staff members, guests and small businesses were left blindsided when its owners announced it would be shutting in February.
This included couples who had weddings booked, as well as the likes of disco organisers and antiques dealers.
The Treetops was advertised as "Aberdeen's newest luxury hotel" when it first opened its doors, with advertising hailing its lounge bars, luxurious ballroom and swimming baths.
In a relative first for the industry, several of its rooms had en-suite bathrooms and guests were able to request the use of a portable television.
Hotel chain Stakis took over the venue's running in 1984, spending thousands of pounds on a major refurbishment project.
It changed hands once more in 1999 when Stakis was purchased by Hilton, and latterly operated as a franchise of its DoubleTree brand.