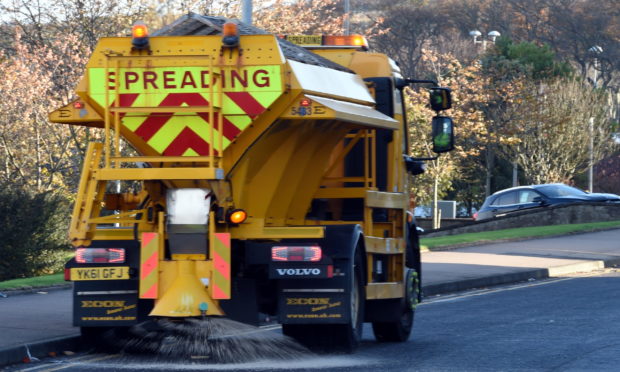 Lorry drivers working in other parts of Aberdeen Council could be drafted in to drive gritters if staffing is badly affected by a resurgence of coronavirus, it has been revealed.
Councillors on the operations committee yesterday voted through the roads maintenance plan for the coming winter, which warned large parts of the city could be left to the snow and ice if there is high staff absence.
The document outlines the priority gold gritting routes would be treated "as an absolute minimum", although officers admit "it is possible lockdown restrictions may limit the number of staff available to complete winter operations".
There is also concern sickness further down the supply line of salt could leave the city without, should the winter weather be particularly bad.
If only the top priority route were salted, main roads in the likes of Cove, Torry, Milltimber, Garthdee, Kincorth, Dyce, Bridge Of Don, Northfield and the West End could go untreated.
But traffic engineering manager Doug Ritchie told members a "plan was in place" to call upon HGV drivers working elsewhere in the council, should they be needed to keep the city moving.
He said: "It is a worry we could have a second wave of coronavirus and we would look to take that further afield with other HGV drivers within the council.
"I can confirm we already  have a plan in place where we get the assistance from ground maintenance teams."
Mr Ritchie was pushed for assurance by Liberal Democrat councillor Steve Delaney – who was one of only two to question the plan.
The Kingswells, Sheddocksley and Summerhill rep said: "I acknowledge the additional challenges which are posed by the unknown impact of a possible second wave of Covid-19.
"If we found ourselves unfortunately in a situation, where we couldn't provide the usual level of service, can I ask officers ensure the public are made aware of what this entails at the earlier opportunity?
"This is, in effect, people's ability to get to work and such – we hope it doesn't happen."
Mr Ritchie committed to communicating information about untreated roads as early as possible, and also highlighted that applications for community tonne bags of salt would soon open.
It is hoped all the bags – offering residents the opportunity to salt their own streets – will be in place around the city by the beginning of November.
The report before councillors highlighted the a budget of nearly £1.6million for roads treatment this year – compared to the £2.3m it cost to get the city through the last harsh winter in 2017/18.
City salt stocks are also at their lowest for four years, at 10,127 tonnes – although these will be topped up as it is used.
Earlier this week Aberdeenshire Council revealed staff from other departments were being trained to help treat the north-east's roads, as it warned people could be urged to stay at home if there aren't enough staff.