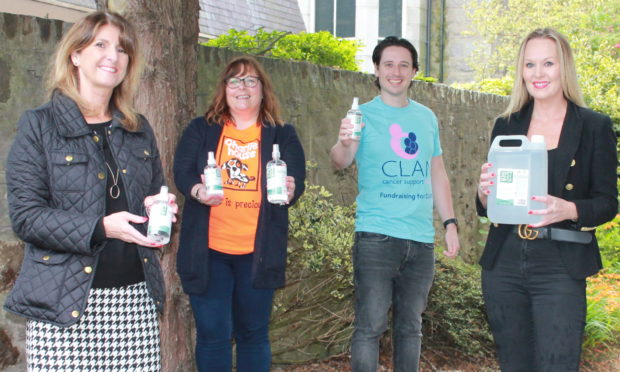 A Moray firm launched just months ago has been able to help north-east charities carry out their vital work by supplying hand sanitiser.
Based in Craigellachie, Just Sanitise is providing unlimited donations to Charlie House, Clan Cancer Support and AberNecessities to help safeguard staff and those they help.
It was the aim of the firm's founder, Nicola Hartland, to help reduce additional costs for the trio of charities since the start of the pandemic.
She said: "Most charities have suffered financially with a drop in donations for the past six months, whilst costs have increased to implement additional health and safety procedures.
"Charlie House, Clan and AberNecessities are all locally run, independent charities committed to supporting people in our local community.
"Providing them with an ongoing donation of Just Sanitise will help offer peace of mind that the sanitiser they are using is a quality product which is effective against the virus."
AberNecessities founder, Danielle Flecher-Horn, said: "In these unprecedented times we, along with most of the third sector, have been working to capacity with restricted manpower to ensure we are supporting families and children in need.
"It is truly comforting that Just Sanitise has chosen to help and protect our volunteers and staff while we navigate through this difficult period.
"Their thoughtfulness, support and continued donations are truly invaluable."