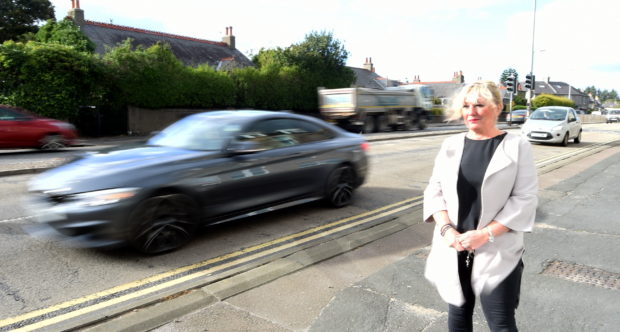 City bosses have decided against installing new cycle lanes on one of the main roads north, saying the move would increase traffic and journey times.
A number of options were under consideration for Ellon Road in Bridge of Don as part of wider active travel plans for the beach area.
Using the £1.76million Spaces For People grant from the Scottish Government, segregated cycle paths were added to the Beach Esplanade, and existing measures on the Beach Boulevard were upgraded.
Council to install bike lanes at Aberdeen beach due to increase in use during lockdown
Further north, three possibilities were listed for Ellon Road: cycle lanes in both directions, combined bus and cycle lanes in both directions, or a bi-directional bike lane in the northbound carriageway.
The latter of the three would also have led to a ban on left turns from Ellon Road onto Balgownie Road.
Last night Aberdeen City Council confirmed the Spaces For People governance board has opted not to progress further with any of these measures, citing concerns over congestion.
A week-long public consultation was held on the proposals at the end of June.
SNP ward councillor Alison Alphonse said all of the options had proved "incredibly unpopular" – and she received dozens of objections from people worried about the impact they would have on traffic.
"These measures would have caused totally unnecessary inconvenience for all Bridge of Don constituents," she said.
"I am sure, like me, residents of the Bridge of Don will be breathing a sigh of relief now the ruling administration has decided to U-turn on its plans to introduce the poorly thought out changes at Ellon Road."
Transport spokeswoman Sandra Macdonald said the board's decision was "due to the likely impact that the interventions would have on junction capacity and the consequential delay to general traffic using the Bridge of Don."
She added: "The grant funding is very clear in that it cannot be used for permanent works.
"If there are elements of any of the designs that people want to retain we can look at those once the virus is under control, with a full and wide-ranging consultation at the core of our decision making and provided there are the resources to do so too."