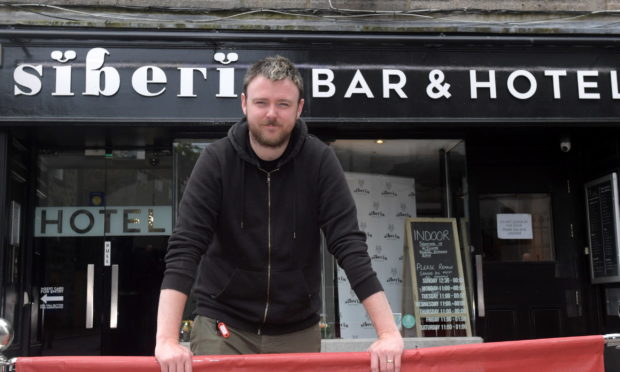 Pubs and bars in the Highlands and across the north-east have joined together to try to have a ban on background music in their venues overturned.
The calls from the Night-Time Industries Association (NTIA) come as businesses across the north of Scotland reported serious concerns about the impact of the move.
The launch of the Don't Stop The Music campaign comes as industry trade body the Scottish Hospitality Group reports only 17 cases of coronavirus have been confirmed among staff and customers since venues were allowed to reopen.
Its members have served 1,867,000 people in that time.
Meanwhile, the continued ban on background music and sports coverage on TV has severely impact the trade – with industry bosses describing it as a "kiss of death" for the ambience in their premises.
Gavin Stevenson, director of Inverness and Aberdeen pub group Mor-Rioghain, said: "The ban on background music is not supported by the evidence, causes significant harm to the hospitality industry and leads to counterproductive behaviours with customers leaning in closer for private conversations or drinking in uncontrolled environments such as house gatherings where no Test And Protect data is kept."
The owner of Highland pub The Gellions and Bridge Of Don inn the Mains Of Scotstown added: "We call on the Scottish Government to urgently work with the industry and reverse this ban."
Stuart McPhee, of Siberia Bar and Hotel in Belmont Street, Aberdeen, added: "The vacuum of atmosphere in any hospitality setting as a result of the ban on background music is having all kinds of profound consequences.
"Well run, safe and controlled hospitality environments losing money despite their best efforts, customers leaning in to avoid overhearing conversation, staff dealing with constant issues such as customers playing music on their phones.
"But to top it off, the general public are staying away because in their own homes, there are none of these draconian measures."
Fellow Aberdeen hospitality boss Tony Cochrane told The P&J the ban had "taken the heart and soul" out of the industry.
Last month, popular Aberdeen LGBT+ nightspot Cheerz Bar directly attributed their prolonged closure to the ban on playing music.
Highland businesses have felt the brunt too, with Cru Holdings owner Scott Murray describing it as the biggest risk to the hospitality sector's recovery.
NTIA Scotland has claimed it is the world's only background music ban brought in to combat Covid-19 and have branded it a "total block on expressions of culture and creativity".
Chairman Michael Grieve said: "The total ban on background music is having a severe effect on many hospitality businesses leading to completely sterile environments which some have likened to visiting a library.
"It seems completely disproportionate relative to other settings and whilst our industry is totally committed to the serious public health imperatives which the Scottish Government is focused on, our already damaged sector is in serious danger of being permanently wiped out unless this ban is removed."
The NTIA is pushing for venue-specific measures to be introduced to ensure operators can set appropriate levels of background music, which bosses claim could still give regulators confidence the noise will not interfere with vital public health goals.
A Scottish Government spokesman said: "We don't want the restrictions in place for any longer than is needed, but the measures are in place for good reason: the advice remains that hospitality premises should have no background music or volume from TVs because of the increased risk of transmission from aerosol and droplets when people raise their voices.
"This measure is being kept under review."
The NTIA wants those backing the campaign to show their support by sharing their favourite song on social media, using the hashtag #DontStopTheMusic.