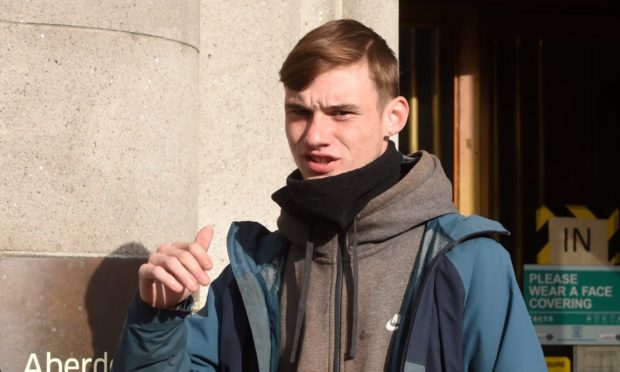 A teenage offender given seven days to "sort his life out" has avoided being sentenced to custody.
Jake Bryden appeared in the dock at Aberdeen Sheriff Court on Tuesday after being given an ultimatum by Sheriff Graeme Napier last week.
In 2017, the 19-year-old made off with an orange tractor and a locking knife taken from an Aberdeenshire Council depot in Inverurie.
He was also involved in an assault on a 14-year-old boy he claimed had been "cheeky" towards him.
But Bryden failed to complete the unpaid work he was ordered to, and refused to co-operate with a curfew.
These issues were compounded last week when he admitted shoplifting goods worth £3.42 from the Co-op on North Street, Inverurie, and of hitting and throwing food at a man inside the store.
At the time Sheriff Napier said Bryden had already been given "umpteen" chances to redeem himself, and called him out for lying to social workers about his financial and housing circumstances.
He warned the teenager could be sent to the young offenders institute at Polmont and said: "You've got one week to sort your life out.
"Be honest about your debt and the positon of your house and cooperate with the restriction of liberty order, or you'll be in a van going down south."
But Bryden, of Beech Court, Inverurie, was spared this fate when he appeared before the sheriff again on Tuesday.
He was instead ordered to complete 230 hours of unpaid work within the next 12 months, and given 18 months of social work supervision.
Bryden was also issued a five-month restriction of liberty order, preventing him from leaving his home between 8pm and 8am.
The days of the week this applies to will be gradually reduced throughout the duration.
Sheriff Napier said: "If you breach that order by not being at your home address, a report will come to court and I can extend the order or revoke it and send you to custody."