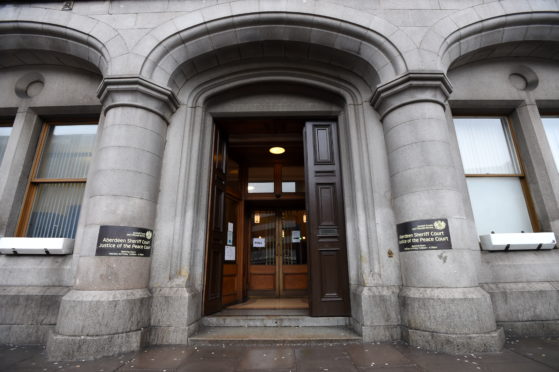 An Aberdeen woman dancing in a friend's living room suddenly punched him in the face and smashed a mirror with a folding table, claiming she was fending off an unwanted advance.
Angela McDermot Dick launched the attack at a pal's house on Rosehill Drive on Monday, August 31.
She admitted assault, property damage, threatening or abusive behaviour and assaulting police officers at Aberdeen Sheriff Court on Tuesday.
Fiscal depute Lynzi Souter explained that the man had been at another friend's house when Dick, 40, appeared at the door "under the influence of alcohol".
Her pal then took her back to his house, offering her a bed for the night to sober up.
"They went into the living room and the accused began to dance," Mrs Souter said.
"Thereafter, without warning, she approached the man and punched him to the face."
Dick was ordered to leave but refused, prompting the man to call the police.
Mrs Souter said: "The accused picked up a small folding table and threw it towards a large standing mirror, which caused the glass to smash.
"She picked up a small side table and threw it towards the man."
The man tried to restrain Dick by holding her back, but she kicked out at him and, on the advice of the emergency call operator, left the room.
While on the other side of the door, he could hear what sounded like items being chucked around the room.
Police arrived and arrested Dick, who continued to act aggressively.
She kicked two of them and hit a third in the face.
But Dick maintained that the true version of events was different from what had been read in court.
Her solicitor Paul Barnett said: "She puts it down to the man persuading her to rekindle a relationship.
"She says he tried to kiss her and felt he was over-enthusiastic and wasn't taking no for an answer.
"She does accept her recollection isn't perfect."
A further hearing into the matter will be convened next month.