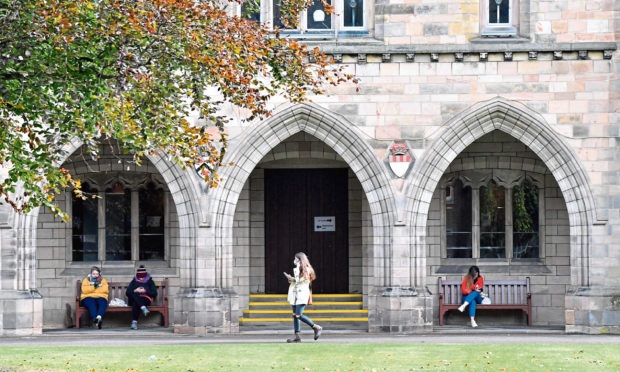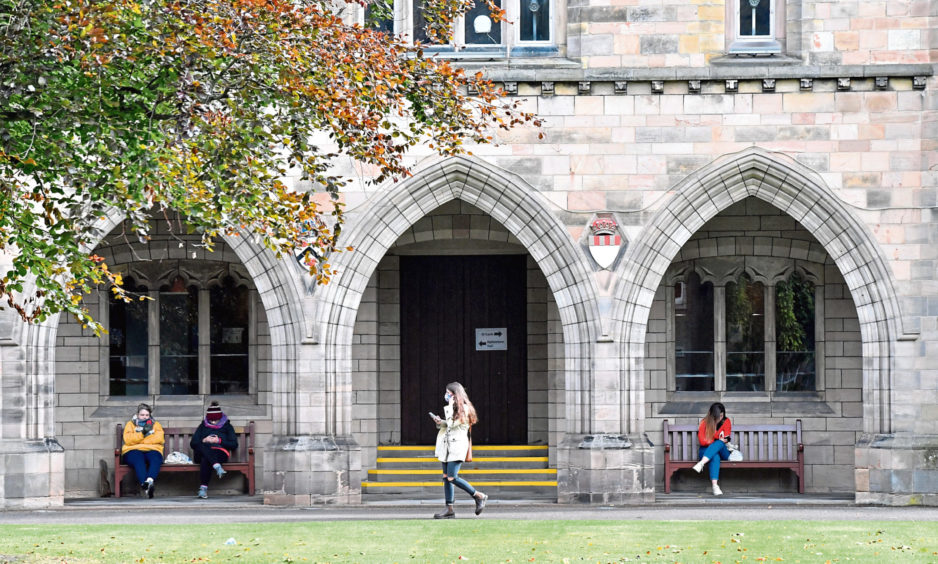 NHS Grampian health chiefs have confirmed a total of 62 positive Covid-19 cases have now been linked to the outbreak at Aberdeen University.
The new cases, which rose by 18 overnight, were identified at halls of residence, private flats and private halls associated with the student population at the campus.
It comes as NHS Grampian also confirmed an outbreak linked to the Bobbin Bar on King Street in the city centre.
The new Aberdeen University cases follow a number of coronavirus outbreaks at student accommodation in Dundee, St Andrews and Glasgow since term started this month.
Aberdeen University confirmed last night that up to 200 students are currently self-isolating in an effort to halt the spread of the virus.
It also stated it had "no plans" to follow Glasgow University and issue accommodation refunds to self-isolating students who are facing hundreds of pounds in rental costs.
An Aberdeen University spokeswoman said: "This a challenging situation for our entire community, and our actions to date have sought to strike a balance that best ensures the safety and wellbeing of students, staff and the wider community in Aberdeen, in cooperation with our partners locally and nationally.
"This is clearly a very delicate balancing act given changing circumstances and we continue to keep our approach under constant review, with the safety of our community as our guiding principle."
Members of the student body have also criticised Aberdeen University over its introduction of fines and exclusion for breaching Covid-19 rules.
A new "campus pledge", introduced by the university, means students could be fined up to £250, excluded or suspended from their course if found to be breaking quarantine rules.
Politics and International relations student, Braiden Smith, 22, criticised the university for, what he described as "threats" to the student body.
He said: "A lot of people I've spoken to are annoyed about the situation because everyone saw this coming.
"If you put all the first years together in halls, then they're going to get together. It's not their fault as they've been put into that environment – the rules have been unenforceable."
Mr Smith described the threat of fines and reports of Aberdeen University requesting that private landlords and accommodation companies to report rule-breaking students as "a bit excessive".
"It makes sense in halls, where there have been parties, but it's bad to treat third and four year students like that.
"I think threatening people who are living out with the university has made people quite angry.
"Students wouldn't be here if they hadn't been made to come here. I don't think the university is in anyone's good books at the moment."
Cecilia Wallback, Aberdeen University Student Association president, said her organisation was "strongly against criticising and punishing" students who are mostly adhering to the rules.
She added: "Any sanctions should be considered on a case-by-case basis taking into consideration the circumstances of the breach.
"While it is important that action is taken against anyone who deliberately behaves irresponsibly, fines should be considered a last resort behind making every effort to ensure that the guidelines are clear, individuals are aware of their responsibilities, and that the support is there for them to be able to play their part."