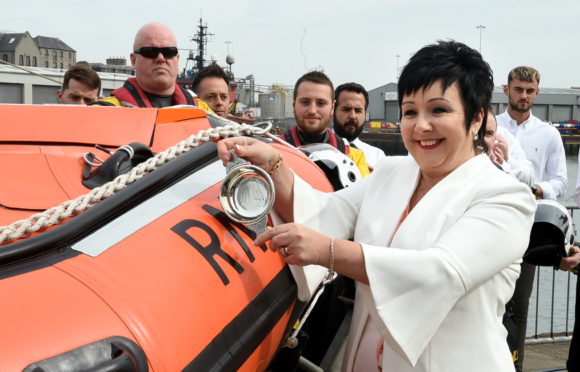 Audrey Wood's son Stuart was one of 16 men who died in a helicopter crash off Peterhead in 2009.
Since then, she has raised more than £235,000 for the RNLI.
Last year some of the funds purchased a new inshore lifeboat for Aberdeen, named Buoy Woody 85N in memory of those killed in the tragedy.
The prominent charity fundraiser has now been awarded a British Empire Medal (BEM) in recognition of her tireless efforts.
Mrs Wood said: "I did all this purely to get through the dark days after losing my son.
"Life was like walking on a tightrope and fundraising was something to cling to.
"I am totally overwhelmed and I cannot thank the RNLI enough for thinking I am worthy of this.
"And I want the RNLI to be recognised too, as a lot of people don't appreciate they are all volunteers."
Anne Scott, the RNLI's community manager for north-east Scotland, said: "Audrey Wood is a fundraising phenomenon in Aberdeen.
"Every year, outside of 2020, she stages a sparkling sell-out event which makes people aware of the lifesaving work our volunteer crews do – and that none of this work could happen were it not for the generosity of members of the public.
"The RNLI is hugely grateful to Audrey."