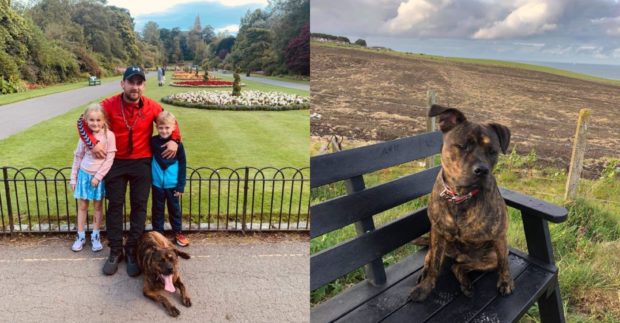 A man has said he "doesn't know what he would have done" without the kindness of dozens of strangers willing to help his severely injured dog.
Keir Williams has heaped praise on the near-50 people who rushed to the emergency vets in Kingswells on Sunday night after his appeal for help was shared on social media.
Family pet Rosie, the Staffordshire Bull Terrier/Rottweiler cross, was hit by a car on the A96 Aberdeen to Inverurie road in Bucksburn at around 9pm, coming home from a walk.
The driver of the black Mercedes involved stopped further along the dual carriageway before shooting off.
Police have confirmed the driver, believed to be male, has since been in contact with them.
An investigation is ongoing.
Mr Williams, 30, told The P&J: "The car was absolutely speeding in the 40mph zone coming out of Bucksburn, just a couple hundred yards from our home.
"We had been out for a walk and she was off the lead as she is every night – she's no bother at all.
"Rosie just went flying when she was hit and then scraped herself off the road using her front paws.
"She was screaming and there was blood everywhere and when we got to the vets they said she had a really bad abdominal bleed, haemorrhaging."
Vets at the emergency practice then revealed they didn't have blood stocks to carry out the required transfusion to keep the one-year-old alive.
It was then Mr Williams turned to Facebook for help.
"The post was shared and then about 50 dog owners turned up willing to donate blood from their dog," he said.
"The vets had seen nothing like it.
"I just want to say a massive thank you as without them, I don't know what else we would do.
"We worried no one would come because of the virus and the straitened times so it was just amazing."
Rosie remains at the family's vet surgery in a critical, but stable, condition with the family awaiting scan results.
But they fear the worst with the "loving and caring" pet, bought for Mr Williams' son Keir, eight, and seven-year-old step-daughter Heidi.
He added: "Rosie's back legs have buckled and the vets are not sure if it's her legs or her pelvis.
"She stills acts like a puppy and just loves bosies.
"My partner Chelsie and I are yet to tell the kids as they will be absolutely heartbroken.
"But the driver should have stopped – it could have been a child for all they knew."
The family have set up a crowdfunder to help with "spiralling" vets bills.