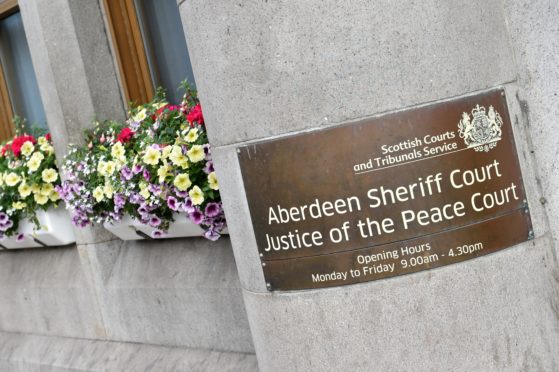 An Aberdeen man led police on an early morning high speed pursuit in an effort to avoid being caught driving under the influence.
Edward Hepburn sped out of a junction onto the city's Walker Road at about 3.10am on September 6 as police were driving by.
The officers saw him "violently" navigate the junction and reported he was struggling to control his Vauxhall Grandland SUV due to his speed.
They turned their vehicle and followed Hepburn with the intention of stopping him, but Aberdeen Sheriff Court was told the sight of their blue lights only spurred him to greater speeds.
He led his pursuers around Walker Road, Menzies Road, Cabels Lane, South Esplanade West, Craig Place in Torry, with the officers witnessing all manner of dangerous driving.
Hepburn careered around another junction before running a red light and the 25-year-old then ignored no entry signs to drive the wrong way down one-way streets.
Finding himself head-to-head with a police car  as he drove on the wrong side of the road, he continued to speed towards the vehicle before swerving into a pavement.
He finally slowed down due to the impact with the pavement, but continued his getaway and entered a roundabout travelling in the wrong direction.
Officers continued to follow the vehicle to Greyhope Bay where he brought the vehicle to an emergency stop.
Hepburn then abandoned his car and fled on foot. Police officers caught up with him a short distance away and he was arrested.
After being taken to Kittybrewster Police Station, Hepburn took a breath test and was found to be under the influence of alcohol.
He had 41 microgrammes of alcohol in 100 millilitres of breath. The legal limit is just 22 microgrammes.
Hepburn, of Portland Street, Aberdeen, was not present in court yesterday but solicitor David Sutherland entered guilty pleas to driving dangerously and drink driving on his client's behalf.
The first charge noted he was driving dangerously, failed to slow at a junction, emerged at excessive speed, continued driving at "grossly excessive speeds", failed to stop for police officers, ignored a red light, drove on the pavement and drove in the wrong direction at a roundabout.
Mr Sutherland said his client had been at a friend's house in the Torry area before leading police on the chase.
Sheriff Ian Wallace deferred sentence to obtain a restriction of liberty order assessment and for social work reports.
Hepburn was disqualified in the meantime and will make a further appearance in November.