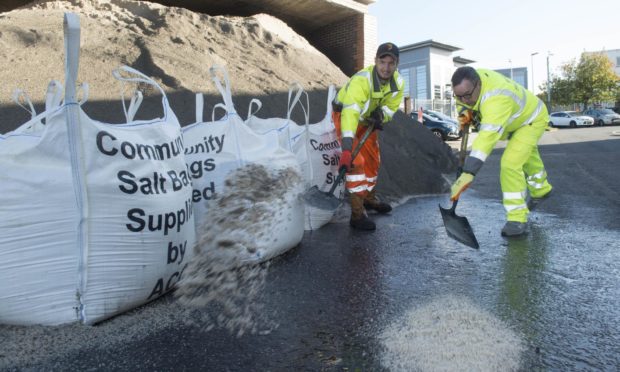 Aberdeen communities are being urged to apply for free one-tonne bags of salt to treat icy roads and pavements through winter.
The supplies will be delivered, replaced and removed free of charge as required.
It comes after a warning from council roads officers that coronavirus could lead to staff shortages leaving main roads throughout the city untreated.
Any illness throughout the supply chain could lead to a lack of grit to spread on roads and pavements too.
The local authority began the winter operation with its lowest salt stock in years but received a 2,500-tonne top-up last month.
As well as the community bags, a network of large salt bins will be rolled out across the city too.
Council transport spokeswoman Sandra Macdonald said: "We have a dedicated workforce of 90 people to cover 24/7 operations on our roads and pavements and they do their best under challenging conditions, often going above and beyond their duty to keep the city moving.
"Unfortunately, though, our staff can't be everywhere all the time – there are 560 miles of roads in Aberdeen, slightly more than the distance from the city to London, and there are 1,242 miles of pavements which is the distance from here to Rome.
"It's good for everyone in our communities to be as prepared as possible we have created as many opportunities as possible to enable communities to help themselves and help their neighbours."
Tonne bags can be organised by contacting the council through winter@aberdeencity.gov.uk or by calling 03000 200 292 by November 15.