The owners of an Aberdeen bakery say they are losing tens of thousands of pounds every week due to controversial city centre social distancing measures.
The owners of Thain's Bakery on George Street, Paul and Katrina Allan, said the removal of on-street parking combined with the loss of night-time sales due to hospitality closures has caused their takings to plummet.
They have watched as sales drop by as much as two thirds compared to last year, leaving them £35,000 out of pocket every week.
Mr Allan said he feared for the jobs of longstanding staff if the situation continued and called for Aberdeen City Council to discuss the matter with local traders.
He said: "Last year we served 18,900 customers during this four week period and this year we have served 7,056, which gives you an idea of how badly impacted we are by the social distancing measures.
"One issue is the lack of night trade, down to the coronavirus, but the other is the massive effect of the social distancing measures – it's really hammered us."
Mrs Allan added: "There doesn't appear to be any help. We've spoken to Councillor Sandra Macdonald and have received very little feedback."
Kimberly Stewart, manager of Thain's Bakery, said: "Basically it has destroyed our well-known family business, it's quite sad really.
"People here aren't happy about the bollards and all our customers are complaining because it's a nuisance for them as well as for us.
"People can't park anywhere, vans can't get in, and no-one can get in to purchase our products."
Nora Padar, owner of Artemisia florists nearby, said the introduction of the bollards had resulted in cars now filling up loading bay spaces during the day.
Graeme Thain, owner of the Party Mania fancy dress shop and former owner of Thain's Bakery, said the introduction of the George Street bollards had turned the street into a "ghost town".
He added: "One of the most irritating aspects of the bollards is that they make it practically impossible for cars or vans to stop outside commercial premises on George Street.
"They also mean that buses can only stop on one side, which halves the amount of footfall reaching my and other businesses."
Mark Shaw, funeral director at Mark Shaw funeral Services, added that there had been "a lack of consultation" between businesses and Aberdeen City Council before the measures were introduced.
Following a recent walkabout held on George Street by councillors with local businesses, it is understood the authority agreed to make "tweaks" to the design of the social distancing measures.
Aberdeen City Council transport spokesperson Sandra Macdonald said: "As we have done before with other Spaces for People projects in the city, we will listen to feedback from our stakeholders and the public on the effectiveness of measures in Justice Mill Lane and in George Street following local walkabouts.
"Officers will engage with stakeholders on what would work from an operational point of view.
"We look forward to getting feedback from the walkabout participants for these suggested changes."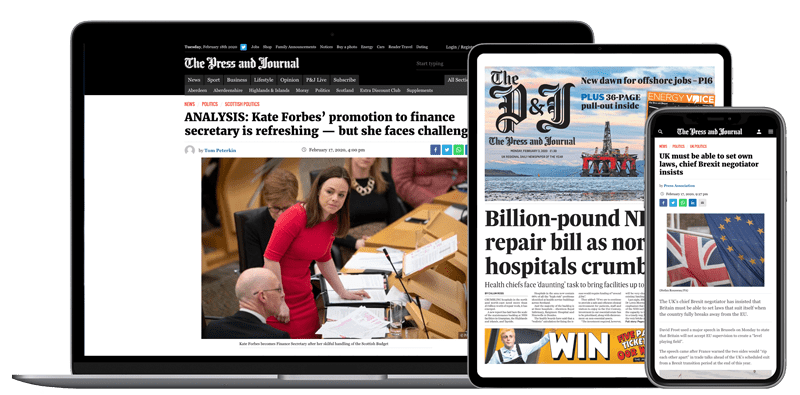 Help support quality local journalism … become a digital subscriber to The Press and Journal
For as little as £5.99 a month you can access all of our content, including Premium articles.
Subscribe