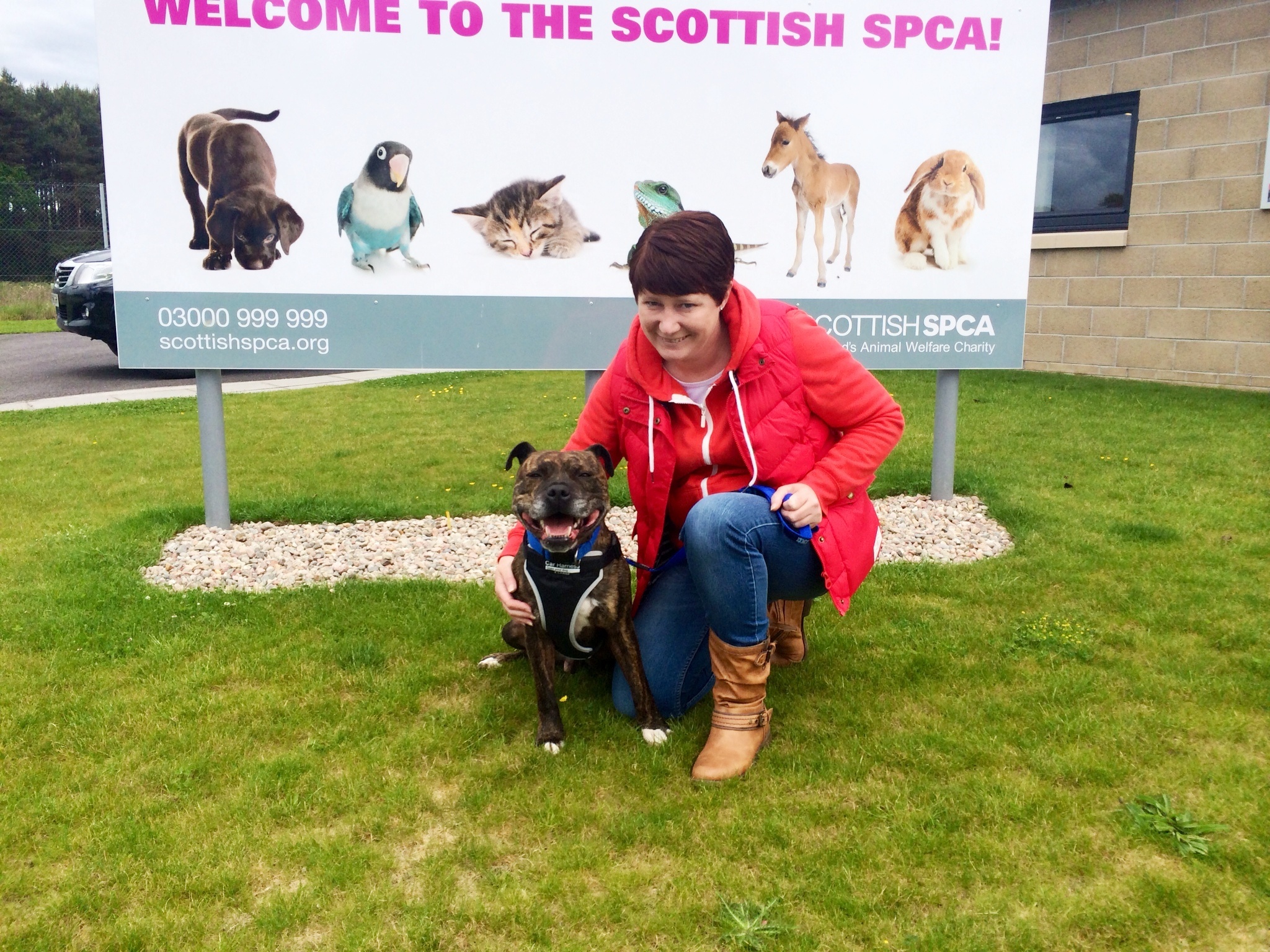 A lonely dog that spent almost 18 months in kennels has finally found a new home in the north-east.
Bolt, a five-year-old Staffordshire terrier, was under the care of the Scottish SPCA for 556 days before he got his long-awaited fresh chance.
It came after the charity moved him from its Glasgow base to its rehoming centre at Drumoak, in Aberdeenshire, and made an appeal to find him the right owner.
Nikki and Martin Shaw decided he would be the perfect addition to their family, and the energetic lad is now adjusting to life in his new home – and his new name, Chester.
Mrs Shaw, from Aberdeenshire, had been checking the charity's website regularly and were drawn constantly to the Staffie's photo.
She said: "Martin and I eventually decided the time was right for us to rehome a dog and when we went along to meet him we both knew he was the one for us.
"It was his big cheesy grin, and the length of time that he had been in kennels – there was just something about him.
"He slept for almost two days straight when we first got him home and it was lovely to see him so relaxed. It was as if all the stress of being homeless had finally been lifted from him."
And a week on from going to live with the Shaws, it appears Bolt has already found his favourite spot in the house – his bed.
Mrs Shaw added: "He enjoys a walk in the morning but he'd rather lie in his bed – he's not a morning dog. If you pick up the lead, his tail does start to wag, but he'd rather have a few more minutes in his bed.
"He does like a good walk and we've found some really good ones. It's good for us as well. Instead of watching TV at night, we're out with him, so it's good exercise. He's just fantastic. He's such a softy and loves a cuddle."
Debbie Innes, assistant manager at the Drumoak centre, said: "It was love at first set when Nikki and Martin met Bolt.
"Everyone here is over the moon that he has finally found his forever home and we just know he is going to be spoiled rotten.
"Seeing a dog like Bolt leave to start a happy new life is the kind of moment that makes this job worthwhile."