Local charity sets up trees in anticipation of Christmas auction
The Archie Foundation is hoping to spread the magic of Christmas all while raising funds across the north and north-east.
A series of decorated trees are taking up residence at Marischal Square in Aberdeen over the festive period.
Each of the trees has been sponsored by organisations from across the region – such as Aberdeen Football Club, who will be decorating theirs with signed memorabilia.
The trees will go under the hammer later in November to anyone who wants to pick up their own, with the proceeds going to a number of good causes.
Decorating a pair of trees themselves, the charity which supports children's healthcare in Inverness, Aberdeen and Dundee, as well as the Neonatal Ward Aberdeen and Grampian Child Bereavement Network, hopes this will be an experience for the whole family.
Due to current coronavirus restrictions the trees will be housed within one of the empty lots at the Square, passersby will be able to look at them through the window.
After issuing a plea earlier in the month for knitted and crocheted rainbows in recognition of the NHS, thousands have been mailed in from across Scotland to decorate one of the charity's own trees.
Lynne Brooks, gifts and donations manager, said: "Coronavirus has been a stumbling block that we have had to work around, but it is great to see all the work come together.
"The Christmas campaign is a great way to bring a bit of joy to everyone in the city, we have been so touched by everyone's submissions to be a part of the trees and thankful to all the sponsors.
"Auctions for the trees will start on November 23, before closing on November 30. We hope to see as many people as possible getting involved."
Alongside the tree decorated with knitted rainbows the charity also has the memories, thanks and hope tree which will be adorned by peoples personal messages – which will not be auctioned off and will instead stay up until the end of December.
The ten trees on display at the square have been decorated by The Aberdeen Clinic Healthcare who feature as the events gold sponsor, Texo, Aberdeen Football Club, Hampton PR, Overbury, Tendeka, Mackies (includes Chocolate), The Christmas Decorators.
Alena Duncan, Chief operating officer for The Aberdeen Clinic Healthcare said: "Its really important that we have been able to offer our support to this Christmas event.
"We have been able to do a lot of work with the NHS over the whole Coronavirus pandemic, it has been great to be able to sponsor the NHS tree."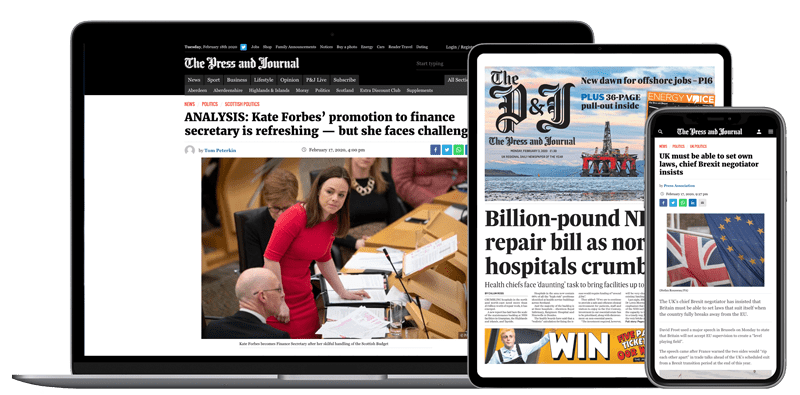 Help support quality local journalism … become a digital subscriber to The Press and Journal
For as little as £5.99 a month you can access all of our content, including Premium articles.
Subscribe