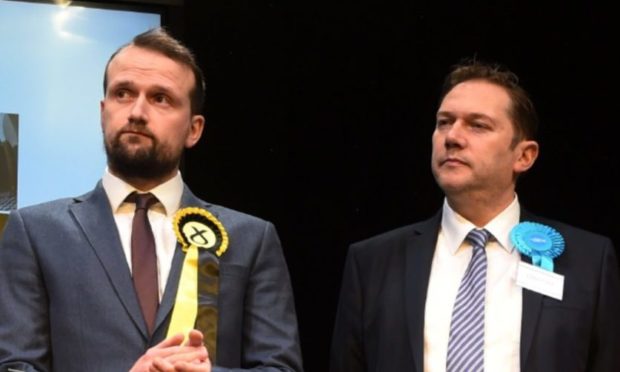 More than half of a £1 million fund set up to help hospitality businesses forced to close in August as part of the Aberdeen local lockdown is yet to be dished out.
Only around £440,000 will have been paid out from the emergency cash pot, set up by the Scottish Government to protect jobs through the three-week citywide restrictions, by the end of the week.
Council leaders blame a lack of flexibility in Scottish Government rules for the delay in getting the vital funding out to business bosses, while SNP Aberdeen South MP Stephen Flynn accused the local authority of sitting on remaining money.
Yesterday the administration leaders penned a letter to First Minister Nicola Sturgeon warning of an "economic tsunami" if more was not done to protect jobs.
Last night Mr Flynn said: "The council administration was given £1m more than two months ago to support businesses in the city yet despite continued flexibility over how to allocate the funds there is still apparently more than £225,000 tucked down the back of the Town House sofa – it's simply not good enough.
"The desire of Douglas Lumsden to constantly pick fights with the Scottish Government has yet again blinded him from the task at hand and it's not good enough – he needs to immediately identify who has not had support and deliver it to them now.
"Everyone knows that they are utterly hapless when it comes to delivery but in the middle of the pandemic, when the city has needed them to step up and deliver, this Tory administration has once again failed miserably on the most basic of tasks.
"They've sent businesses round the bend with their daft changes to the road network and now they're failing to dish out cash due to those in need – they need to take action and right this wrong now."
Councillors will today be given an update on progress in sharing the £1m fund at a meeting of the city growth and resources committee.
Money was allocated as a £900,000 fund to help firms directly told to close in August, as health authorities moved to get to grips with a coronavirus cluster spread through Aberdeen's nightspots.
Another £100,000 discretionary fund was established to help businesses indirectly hit by the widespread closures – firms who could remain open but lost a lot of their patronage.
When restrictions were introduced in the Central Belt, grants in Aberdeen were increased to match the more generous funding down south.
Originally £1,000 and 1,500; they were upped to £2,875 and £4,310 – with the sums paid out dependent on the rateable value of business premises.
Despite that additional flexibility, only around another £335,000 has been earmarked as top-ups for the more meagre grants – meaning there is still approximately £225,000 going unused.
Council co-leader Douglas Lumsden, the resources convener, said after another 50 funding bids were processed by Monday's deadline, there would be less than £100,000 remaining.
He hit back at the criticism from the SNP, telling The P&J: "It would be strange to distribute the remaining money when we are still processing bids coming in – maybe Mr Flynn doesn't understand how the application process works.
"We had strict criteria to adhere to from the Scottish Government – if they gave us full discretion at the start we would have had this fund spent weeks ago.
"Everything comes with strings attached and we have to stick to the rules set out, that's why this money has not gone out quicker.
"We would have increased the sums going to hospitality months ago but the truth is we weren't allowed to."