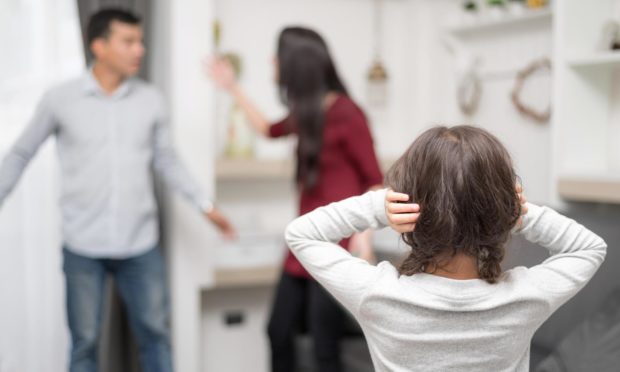 Domestic abusers in Aberdeen could soon be offered a move to a new home in an effort to prevent their victims declaring themselves homeless as an escape route.
Councillors will consider the step next week as they attempt to get to grips with homelessness caused by what the council has called a "heinous crime".
A new council housing policy, formed with input from support charities including Grampian Women's Aid and the Cyrenians, would give officials powers to offer perpetrators a move if they engage with the process.
It would mean fewer survivors are forced to flee their council homes while the courts deal with their aggressor.
Abusers willing to engage with authorities would be offered accommodation "of appropriate size and in an area of similar letting demand".
Five men reported following police crackdown on domestic abuse in Aberdeen
Over 2019-20, 15.9% of all homelessness applications in the Granite City were filed by someone fleeing some form of domestic abuse – compared to 13.1% nationally.
Between April 2017 and March 2020, Aberdeen has consistently had more people declaring themselves homeless due to the problem than the Scottish average.
The rate has fallen to 13.9% this year in Aberdeen, though comparable national statistics are not expected to be released until late summer.
Most are female, though a report authored by council customer services director, Andy MacDonald, highlighted others, including those from the LGBTQ community, can also suffer.
He added that due to the nature of the crime, where people are often "coercive and controlling", domestic abuse levels in Aberdeen may be "far higher" than reported – with worries lockdown could make matters "potentially worse".
The council's vice operations convener, Philip Bell, told The P&J: "Domestic abuse tends to go unreported which is one reason why the Scottish average figure appears to be lower than in Aberdeen.
"It is a heinous, selfish crime and I am absolutely delighted that officers in Aberdeen City Council have really grabbed the bull by the horns on this problem."
Other primary preventions, including awareness training, education, challenging attitudes and promoting gender equality, are to be used to try to halt disruption to families where appropriate.
"Primary prevention of domestic abuse is a key focus of this policy," Mr Bell added.
Help for people suffering domestic abuse:
Police Scotland: If you are in danger and it is an emergency, call 999. If you are in an emergency, are dialling from a mobile phone but cannot speak openly, dial 999 then, when the call connects, type 55. You should try and cough, tap the handset or whisper to communicate if possible. In non-emergencies, call 101.
National Domestic Abuse Helpline: Free and confidential advice for all, 24 hours a day on 0800 027 1234. They run a support webchat available too.
The Men's Advice Line offers advice and support to men who have experienced
domestic abuse, open Mondays and Wednesdays 9am-8pm and Tuesdays, Thursdays, and Fridays 9am-5pm. Call the National Domestic Abuse Helpline on 0800 027 1234 and select Option 2. They offer webchat support.
Aberdeen City Council's domestic abuse team can be reached on 01224 538000. Email: DomesticAbuseTeam@aberdeencity.gov.uk
Grampian Women's Aid on 01224 593381. The charity's website also offers tips on how to keep your browsing history private if you are concerned about someone finding out you are seeking help: Cover your tracks online
Rape Crisis Grampian. Telephone: 01224 590932.
Community Planning Aberdeen has a lot of very useful guidance on its website.
Help for those who want to stop being abusive:
The Respect phoneline offers confidential advice, information, and
support for anyone concerned about their own abusive behaviour towards a partner or
ex-partner. It operates Monday to Friday, 9am to 5pm on 0808 802 4040. There is also a webchat on Tuesdays and Thursdays.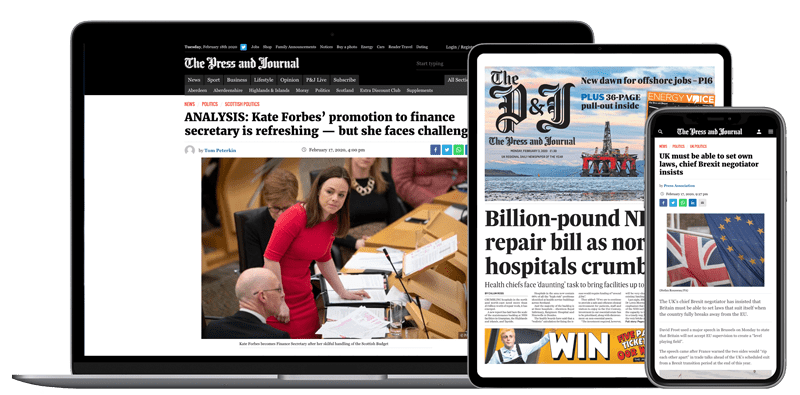 Help support quality local journalism … become a digital subscriber to The Press and Journal
For as little as £5.99 a month you can access all of our content, including Premium articles.
Subscribe