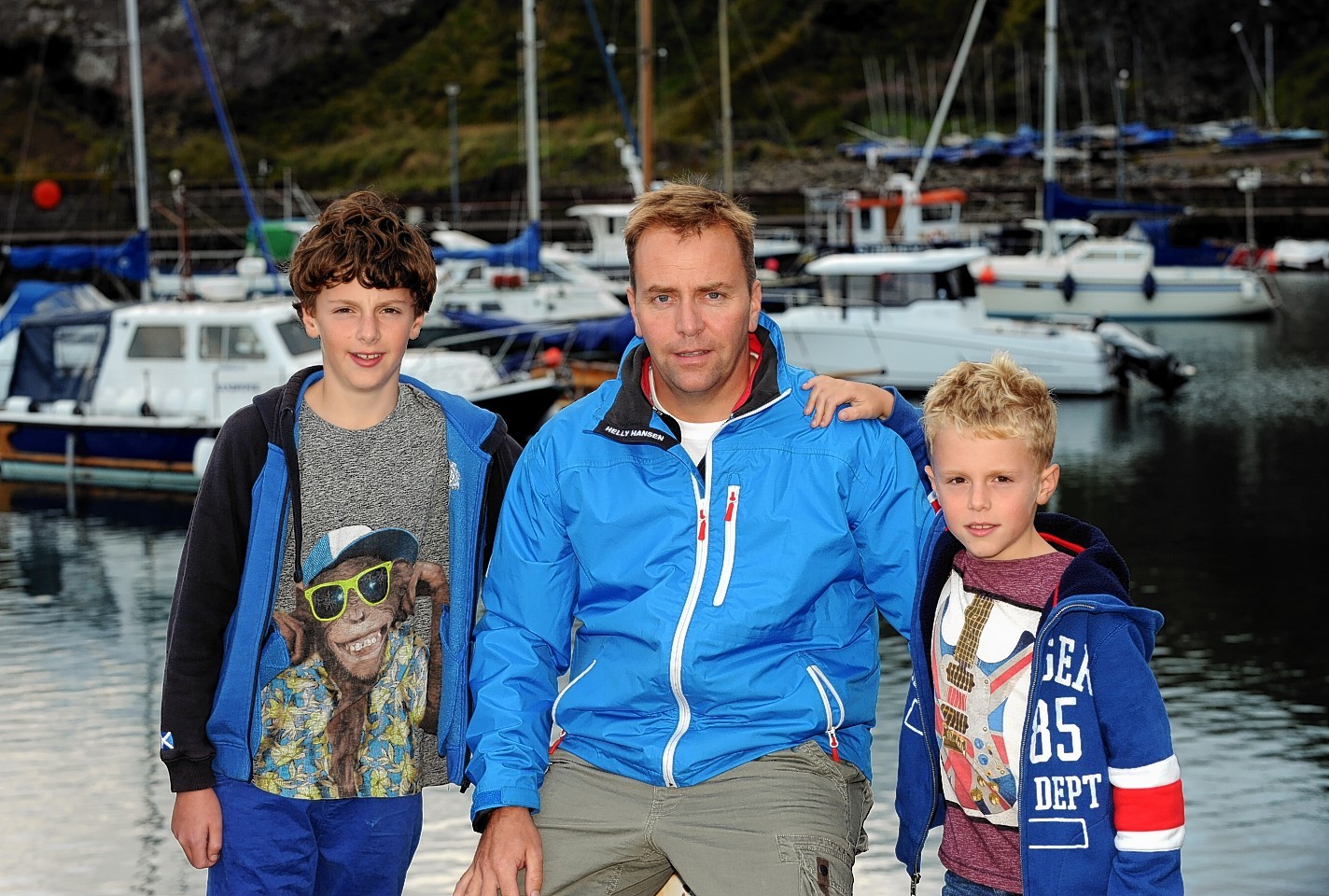 A fisherman has relived the dramatic moment he pulled a sailor from the icy North Sea after his boat capsized.
Andrew Buchanan was alerted by his young son when a trimaran dinghy flipped in rough conditions off the coast of Aberdeenshire.
He had been on a fishing trip with his father-in-law, Brian Topp, 64, and sons Matthew, 12, and Rory, 8.
Their boat The Shindig and Catterline sailor Ian Buchan's small trimaran were the only vessels on the water in Crawton Bay, south of Stonehaven, when the weather deteriorated.
And as they started to head for home, young Rory spotted Mr Buchan's capsized boat partially submerged about half a mile off the coast.
Financial consultant Mr Buchanan, 45, said: "It was quite a rough day. We lifted our anchor and were thinking about leaving because it was getting really, really windy.
"As we turned to go back, my eight-year-old son said, 'That man's boat is upside down'.
"It was getting really windy and rough and he just had shorts and a top on, so I went over to him. He was just out for a sail.
"It wasn't his fault his boat had gone over. It was very gusty."
They found Mr Buchan "half in water hanging on the top of the boat".
Father-of-four Mr Buchanan said: "I had a go at trying to pull the boat back over. It was too rough and dangerous and the guy was getting cold and I took him aboard my boat.
"It was a poor day. He did the right thing and stayed on top of his boat.
"It was really quite rough and, where he was, he was getting blown farther and farther out."
The ex-Maritime Rescue Institute coxswain then tied Mr Buchan's boat to his own 20ft sports fishing vessel and took it as far inshore as he could.
Mr Buchanan said: "My boat's got a big engine and I thought I was capable of towing him.
"We got him as far in as we could, but his mast was bigger than we thought. We didn't want to damage the boat. We decided to just stop there.
"It took us about 40 minutes to tow him in and that's when I phoned one of the helmsmen at Stonehaven RNLI."
The Stonehaven inshore lifeboat – the Jack and Joyce Burcombe – was called to the scene at 6.20pm on Saturday.
The vessel, with assistance from The Shindig, succeeded in righting the trimaran.
Mr Buchanan and his family had gone out with their lobster creels. They fish several times a week, mostly for cod and mackerel.
Oil worker Mr Topp had just returned home from offshore and fancied a fishing trip, but the weather almost convinced Mr Buchanan to cancel the trip.
He said: "I was in two minds whether to go."
He added that if they had not been fishing nearby – and if Rory had not spotted the upturned boat – Mr Buchan may have been in the water a lot longer.
Mr Buchanan lives in Stonehaven with his wife, Rachael, and two other sons, Sam and Ross.
Mr Buchan did not require medical treatment when he arrived back in Catterline Bay.
Stonehaven RNLI helmsman Andy Martin said: "We were called to an upturned trimaran dinghy in Catterline Bay where a passing pleasure boat had witnessed the incident and gone to assist a man in the water."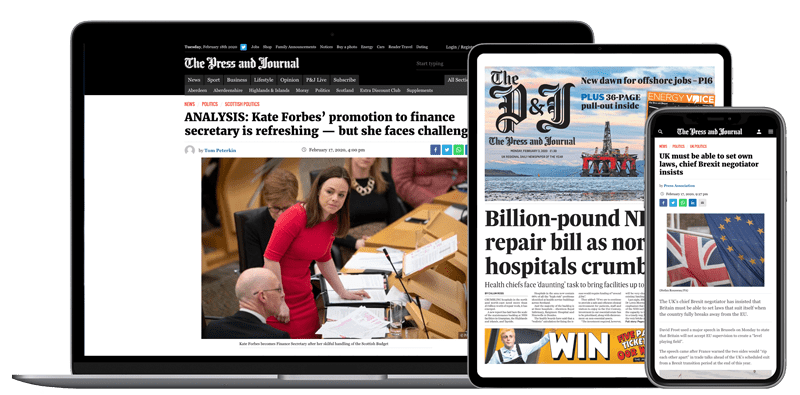 Help support quality local journalism … become a digital subscriber to The Press and Journal
For as little as £5.99 a month you can access all of our content, including Premium articles.
Subscribe