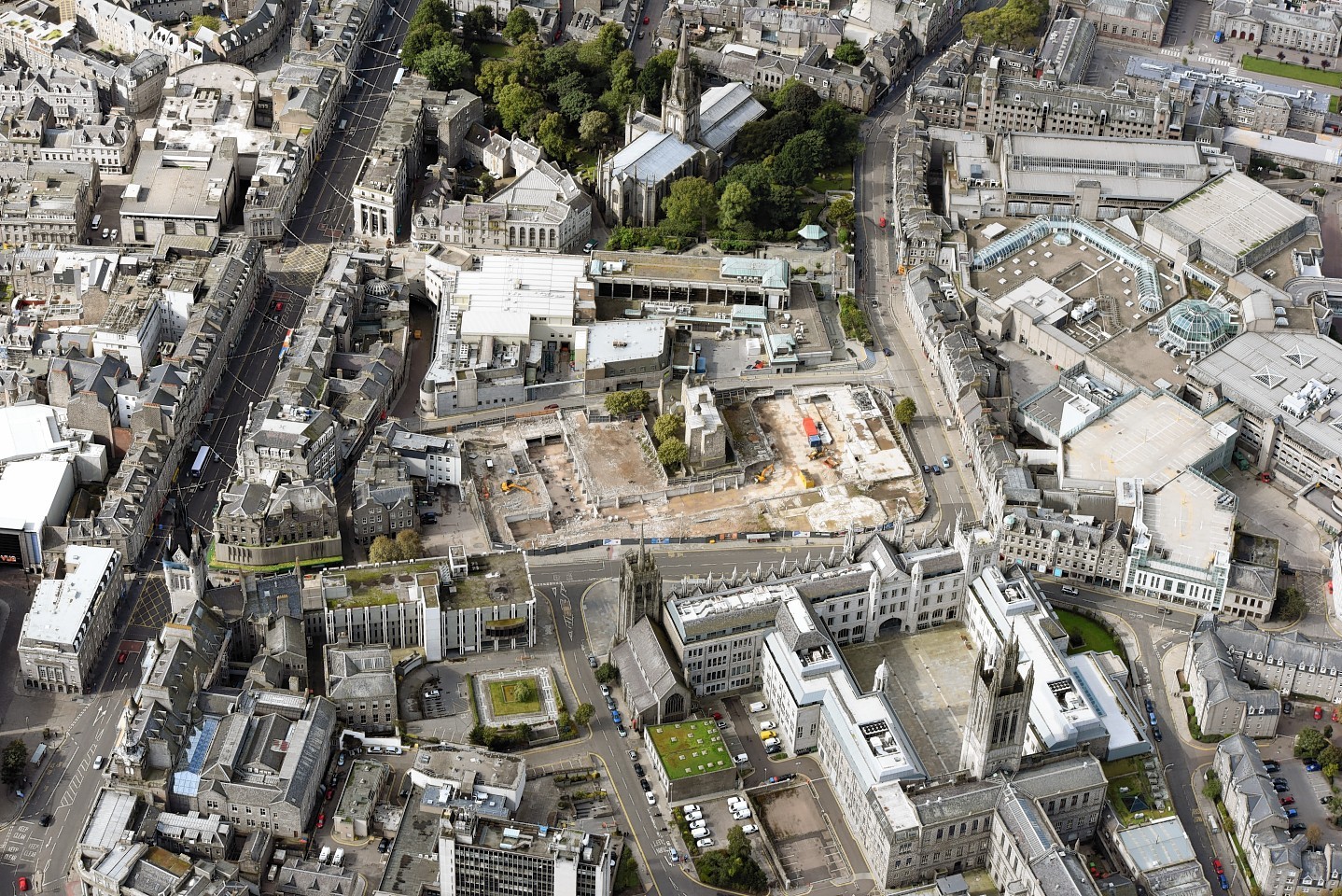 Controversial plans to redevelop the site of Aberdeen City Council's former headquarters were approved yesterday.
The £107million Marischal Square revamp – a combination of offices, shops, restaurants and a hotel – was backed by local councillors in a 23-18 vote.
The company behind the proposal, Muse Developments Ltd, welcomed the decision last night and said work would begin in February next year, with completion due by 2017.
Steve Turner, Muse regional director for Scotland, said the complex could create a "ripple effect" of further regeneration for the east end of the city centre.
He said there had already been a "high level" of interest in the development. Marriott Residents Inn has also agreed to operate the hotel at the complex.
Council leader Jenny Laing said Marischal Square could provide a "beating heart" for the centre of Aberdeen.
The application was debated for more than two-and-a-half hours at the town house yesterday.
Liberal Democrat Jennifer Stewart unsuccessfully moved to refuse planning permission, while the SNP called for a deferral for further consideration.
The Nationalists raised concerns about the removal of pedestrianisation plans for Broad Street, which officers said could not be considered as part of the application.
The new development will be a series of six and seven-storey blocks, replacing the 14-storey St Nicholas House office.
Councillors spent the best part of an hour quizzing planners on the application, although no members of the Labour group posed a question.
SNP ward member for Midstocket and Rosemount, Bill Cormie, raised concerns over traffic modelling, consultation with bus and taxi firms on the pedestrianisation plans and the decision to bypass the authority's planning committee.
The council's head of planning, Margaret Bochel, insisted officers had carried out traffic studies and consulted widely, and pointed out the pedestrian plans were no longer being considered as part of the application.
Jennifer Stewart, Liberal Democrat member for Hazlehead, Ashley and Queens Cross, posed questions on the potential for a conflict of interest, given the council's ownership of the site and the fact it has a financial interest in the site.
Planning committee convener Ramsay Milne insisted, however, that the council acted "entirely properly" in its handling of the case.
Mr Milne moved to approve the plans, praising officers and insisting elected members had a "civic duty" to back the redevelopment.
Mrs Stewart tabled an amendment to reject the application on the grounds of "overdevelopment" of the site.
She said: "As it stands, this will be a blot on the landscape."
A second amendment was tabled by Mr Cormie to defer the application to "take a long, hard look" at the plans.
"The public have been misled on this," he added.
The Lib Dem amendment was defeated by the SNP amendment, 13-9 with 19 abstentions.
Mr Milne's motion was then voted through by 23-18 over the SNP amendment.