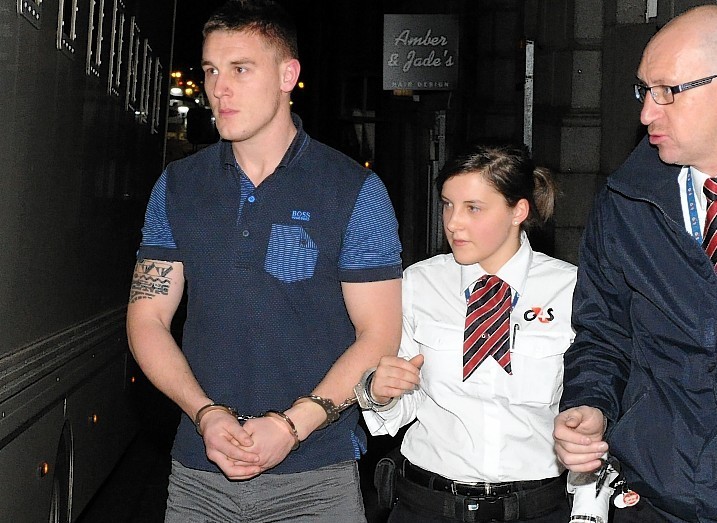 A drink-driver who smashed into a parked car while driving dangerously in Aberdeen has been cleared of causing life-threatening injuries to his friend.
Garry Davidson was yesterday found guilty by majority of driving a green Mini Cooper dangerously along Girdleness Road at "excessive speeds" and while drunk on July 2 this year.
He also admitted driving the car while disqualified and without insurance, and was jailed for 16 months.
However, a jury of 10 women and five men decided the prosecution had failed to prove that it was his actions which led to a horrific crash which almost killed offshore worker Scott Duguid.
Davidson, who has a four-page criminal record with multiple driving convictions, had been on trial at Aberdeen Sheriff Court this week charged with causing serious injury to Mr Duguid.
It was alleged he did so by causing the crash while driving at speeds of up to 70mph and while almost twice the legal drink-drive limit.
However, giving evidence himself, Mr Duguid told the court he had been responsible for the crash as he pulled on the hand break while the Mini was still moving.
The jury heard he had done so in order to try to stop the car as he was arguing with another passenger.
Giving evidence yesterday, Davidson, 25, told the court he struggled to remember much about the accident as it "all happened so fast". He said the next thing he remembered, after being cut out of the vehicle, was waking up in hospital.
When asked by his solicitor Peter Keene how he felt about getting behind the wheel after he had been drinking all day, Davidson replied: "I was drunk. It was a stupid decision. It was a ridiculous decision but I was drunk. It was dangerous."
However, when asked if he was responsible for causing Mr Duguid's injuries, he said "no". When asked who was responsible he replied "Scott Duguid when he applied the hand brake".
The court previously heard Mr Duguid had to spend days in hospital after being cut free from the wreck of the car. When paramedics arrived on scene they found him hanging from the back window of the Mini. Medcis broke every rib, had a punctured lung and was left with a permanent scar on his face.
Sentencing Davidson, Sheriff Graeme Napier said he had a horrendous record of offending, and he had no alternative but to send him to jail.
He said : "The only way to deal with this offence is by way of a custodial sentence. I do not suspect that you were expecting anything different.
"The jury were not satisfied that you caused the very serious injuries of Mr Duguid and, therefore, I do not take that into account when imposing a sentence."
Davidson was jailed for 16 months and disqualified from driving for 10 years.