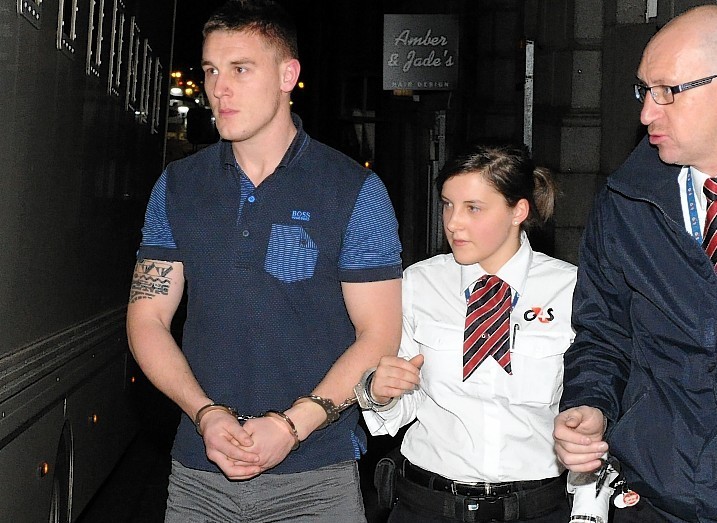 A man who was jailed last week for driving dangerously in Aberdeen whilst disqualified is to appeal his 16-month sentence.
Garry Davidson was jailed on Wednesday after a jury found him guilty of driving along Girdleness Road in a Mini Cooper at "excessive speeds" while drunk on July 2 this year.
The serial offender also admitted driving the car while disqualified and without insurance.
He was cleared of causing a crash that nearly killed his friend Scott Duguid.
Yesterday it emerged the 25-year-old was appealing the sentence – when he appeared back at Aberdeen Sheriff Court for an unrelated offence.
Davidson, who is originally from Muchalls, near Stonehaven, appeared in court yesterday for sentencing after being found guilty of throwing a glass at Karen Fenwick, narrowly missing her, at an Aberdeen bar earlier this year.
Defence agent Peter Keene urged Sheriff Kenneth Stewart to impose a community payback order, and announced that his client was appealing the jail term handed down last week.
Mr Keene argued Sheriff Graeme Napier, who presided over the dangerous driving trial, should not have sentenced his client as harshly.
Sheriff Napier admonished Davidson for driving without insurance but ordered him to serve two consecutive sentences for the remaining three charges.
Yesterday Mr Keene said the offences should have treated as one, meaning concurrent sentences should have been imposed.
He told Sheriff Stewart that as the sentence for the driving offences had been backdated to July, if the appeal was successful, Davidson could released as early as next month – meaning he would be able to carry out a community payback order for the assault.
However, Sheriff Stewart said it was "of no concern" to him whether the appeal was successful or not and said it was "extremely fortunate" the glass did not hit Miss Fenwick.
He sentenced Davidson to six months in prison, which will run after the end of the sentence he is currently serving.