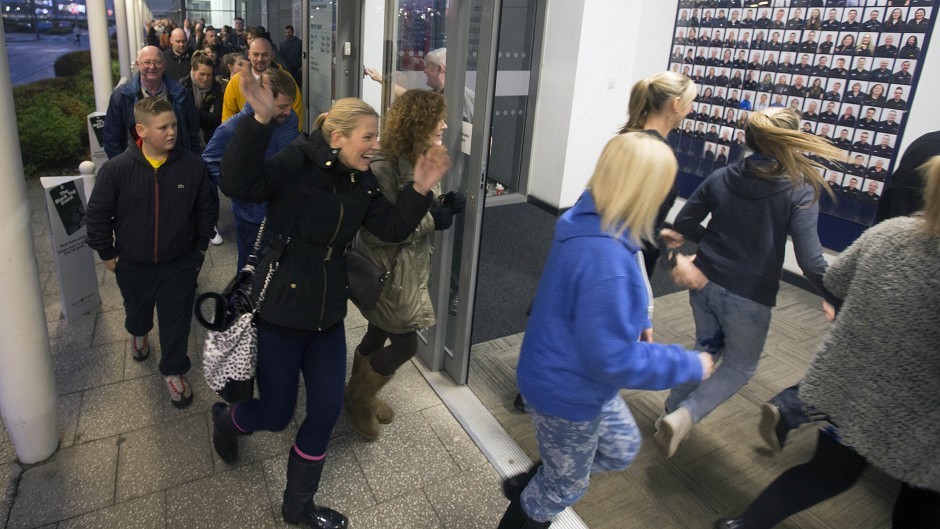 Police were on standby across Scotland yesterday as bargain-mad shoppers hit supermarkets and malls for Black Friday.
In Dundee the Tesco store at Kingsway had to be closed for almost five hours after rowdy crowds brawled over cut price TV sets.
Eyewitnesses described how the savvy shoppers clambered over each other before ripping open pallets to get at reduced items before staff could price them or get them onto the shelves.
A police spokesman yesterday confirmed there was "an altercation" between shoppers as the sale began at midnight, but said no arrests had been made.
Stores across the north and north-east were also extremely busy yesterday with high street shops opening early from around 8am.
Car parks in Aberdeen city centre were almost all at full capacity by 10am.
Even as the day progressed the shoppers continued to hit the malls as people who were finishing work were keen not to miss out on yesterday's bargains.
However Police Scotland said there had been no issues of violence in Grampian.
Last night Craig Stevenson, manager at the Bon Accord and St Nicholas Centre, said yesterday had been the busiest day of the year by far.
He said: "We expected an incredibly busy Black Friday, but the number of customers and the number of bargains snapped up far exceeded our expectations.
"Today has been the busiest day of the year by far and may well surpass Boxing Day as our busiest day of 2014.
"Electrical gifts sold particularly well, but so did more traditional toys and board games, while jewellery sales indicate romance is alive and well in Aberdeen.
"Amidst the bargains there were also lots of children who took the chance to tell Santa what they would like for Christmas, with dolls and soft toys still proving as popular as ever."
Mr Stevenson said that shops including the Disney store were particularly busy with customers having to queue for around half an hour to pay for their goods.
In Moray, Angie Chisholm, security manager at the St Giles Shopping Centre, said everyone had been on their best behaviour while out shopping in Elgin.