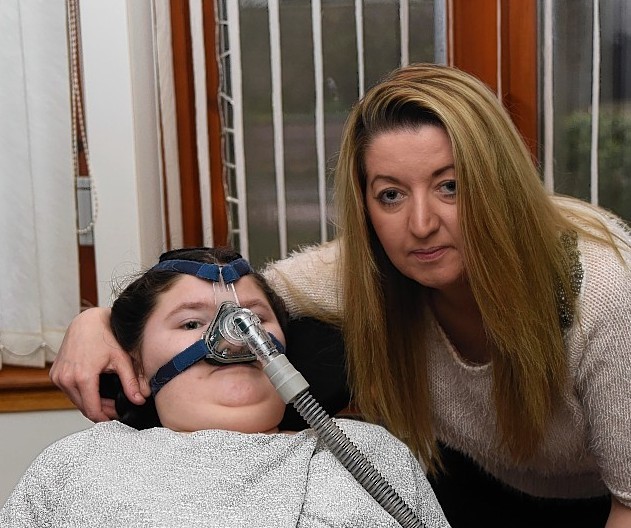 A Fraserburgh mum and her family have launched a petition to NHS Grampian asking the health board to give her paralysed daughter the treatment they believe she needs to walk again.
Elysha Robertson, 13, has suffered since she was two-years-old from a rare condition which has confined her to a wheelchair, left her unable to breathe without a ventilator, unable to eat without a gastronomy tube, and only able to communicate with the world by speaking sign language with her feet.
Elysha had previously been given a lifesaving treatment called Immunoglobulin Therapy (IVIG) in a children's hospital in Sheffield which resulted in her being able to walk unassisted and breathe freely.
Since moving back up to the north-east, doctors at NHS Grampian have re-diagnosed Elysha with a different condition than the one she was treated for in Sheffield and since the diagnosis Elysha has been receiving a different treatment.
The online petition to get Elysha back on IVIG treatment has already received more than 1,500 signatures.
Elysha's mum Grace Watt said: "We just want the treatment for Elysha.
"She was a happy, healthy child until she reached about two and a half years old.
"She started falling over and not being able to pick herself up, she would have trouble holding a spoon when eating, and she was always short of breath.
"For 20 months we had to stay by her side in Sheffield, not knowing if she would live or not. But while there she received the treatment and was eventually actually able to walk around again by herself.
"We've got everything in writing from doctors saying that the treatment is beneficial for Elysha.
"Call her disease what you want, it doesn't change the fact that the treatment works."
A spokesman for NHS Grampian said: "The family has previously made a number of complaints which were thoroughly investigated. Any further communication from them would be followed up and any outstanding issues addressed.
"We met the family with their representatives on a number of occasions to discuss Elysha and the clinical reasons for the treatment being provided in Aberdeen.
"Our primary concern is to provide the best care for Elysha, and we would be happy to meet with the family again or reaffirm our offer of a second opinion from a centre of excellence."