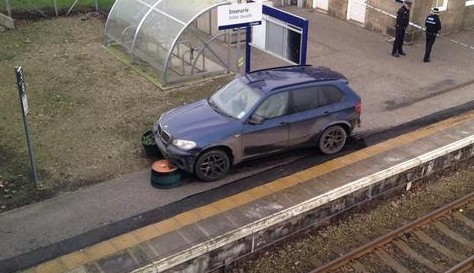 The dramatic police chase throughout Aberdeenshire reportedly remains ongoing this afternoon, despite police bringing two of the vehicles involved to a halt and taking three people into custody.
The chase, said to involve a driver in a balaclava racing through the streets of Inverurie, has caused chaos on roads across Aberdeenshire, but a chase remains ongoing in Aberdeen to recover a number of other cars.
Police Scotland confirmed that the drama comes as part of the planned Operation Ruby and the investigation into several stolen vehicles in Aberdeen and Aberdeenshire.
A BMW X5 has been recovered in Inverurie and an Audi Q5 in Aberdeen this morning.
https://twitter.com/alaxoo/status/543377574408486912
Police are also appealing to the public for help to trace three outstanding vehicles which have been stolen from the Aberdeenshire area in the last week.
The vehicles include a Silver VW Golf registration OE60 WYU, a black Audi A1 registration SV61 YRL or W23 JLG and a white Vauxhall Combo Van registration SV61 XVA.
Real life GTA in Inverurie this morning! #carchase #ontherun

— Darren Eggie. (@DarrenEggie) December 12, 2014
Chief Inspector Richard Craig said : "Anyone who has seen these vehicles parked in their street or within a car park in their local community should contact Police Scotland on 101. On some occasions these vehicles have been driven recklessly in the City and Shire endangering other road users.
"As part of Operation Ruby we are using specialist police resources from across the country including air support to assist local officers in the investigation and recovery of these vehicles.
"We would urge members of the public to continue to take simple security measures to avoid becoming the victim of crime.
"Always lock your cars when leaving them unattended and keep vehicle keys out of reach from your front door. It is also good advice to not leave any valuables on display within vehicles.
"Locking your vehicle and making it difficult for thieves to obtain the keys will deter them."
4 police cars, 3 fire engines. Speeding thought inverurie is not a good sign!! Be safe out there guys!!

— Cheryl Rogerson (@CherylRogerson) December 12, 2014