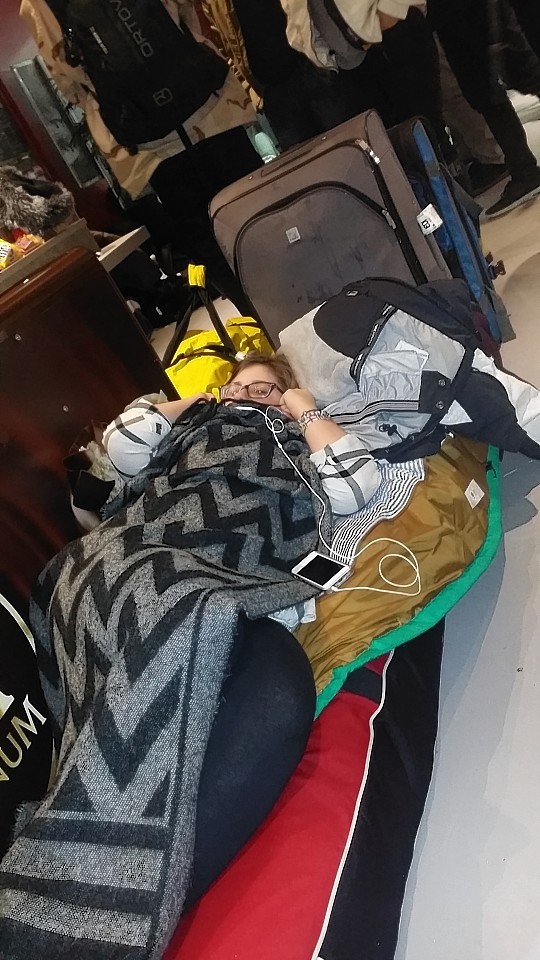 A family from Aberdeen spent the night sleeping on a gym hall floor in France after becoming stranded by a freak snowfall that left thousands of winter holiday makers unable to get home.
The Collerans, from Milltimber, had been skiing in the Alps over Christmas when heavy snow left them receiving care from the International Red Cross.
The family, who spent about 55 hours attempting to get back to the north-east, were amongst thousands stuck at Chambray Airport after flights in and out of the region were paralysed by the conditions.
At least five people are understood to have been killed due to the heavy snow across the Alps with thousands of vehicles brought to a standstill.
Up to 15,000 people are believed to have slept in emergency accommodation on Saturday as flights backed up.
George Colleran, 18, who was on holiday with his parents and two sisters, said it was "mayhem" in the airport hall as passengers became increasingly desperate to get home.
The Aberdeen University student and his family had been due to fly back at 10.15am on Saturday but finally boarded a flight from Grenoble to Edinburgh at 10pm on Sunday.
He said: "We were eventually told on Saturday that the airline was going to organise accommodation but because all the other airlines had done the same, all the hotels had been booked up.
"We were taken to a gym hall where we all slept and the International Red Crss was giving out blankets and drinks for us."
Mr Colleran said it was the only assistance they received apart from a 10 Euro voucher from the airline on Saturday.
"It had been mayhem at the airport as there were all the normal flights going out as we all the ones that had been rescheduled," he added.
"There were people who had lost their tempers and others who just couldn't be bothered fighting it.
"When you are in a situation like that, you can't really do much about it."
The family were eventually taken on a one-hour coach trip to Grenoble on Sunday, where they managed to board a plane and get home.
Mother Helen Colleran, 49, a dance school administrator, said the lack of information on the flights had been frustrating.
She said: "Personally, I think we had it quite easy in comparison to a lot of people as we were always in the warm and not stuck on a bus overnight.
"THe key frustration was the continual change in information that was being provided and how chaotic the whole thing was.
"This was not a unique scenario and this does happen from time to time. YOu would like to think that the French authorities did have some sort of contingency in place so it could be dealt with more effectively."