This footage shows the moment a young biker risked his life to perform stunts on one of Aberdeen's busiest roads.
A dashboard camera captured footage of him turning the wrong way on a roundabout in the city's North Anderson drive, performing wheelies and weaving in and out of traffic undertaking other drivers.
The footage was shot by a motorist heading north on the A90 trunk road.
The minute-long video – "Idiot Motorcross Biker On Anderson Drive Aberdeen – has been viewed almost 1,000 times since it was uploaded to YouTube by a user known as "Land Rover".
Clad in black, the biker pulls in front the car fitted with dashboard camera before pulling a wheelie just feet away from the vehicle.
He speeds off in the direction of the Haudagain roundabout, appearing to undercut another two drivers before the video stops.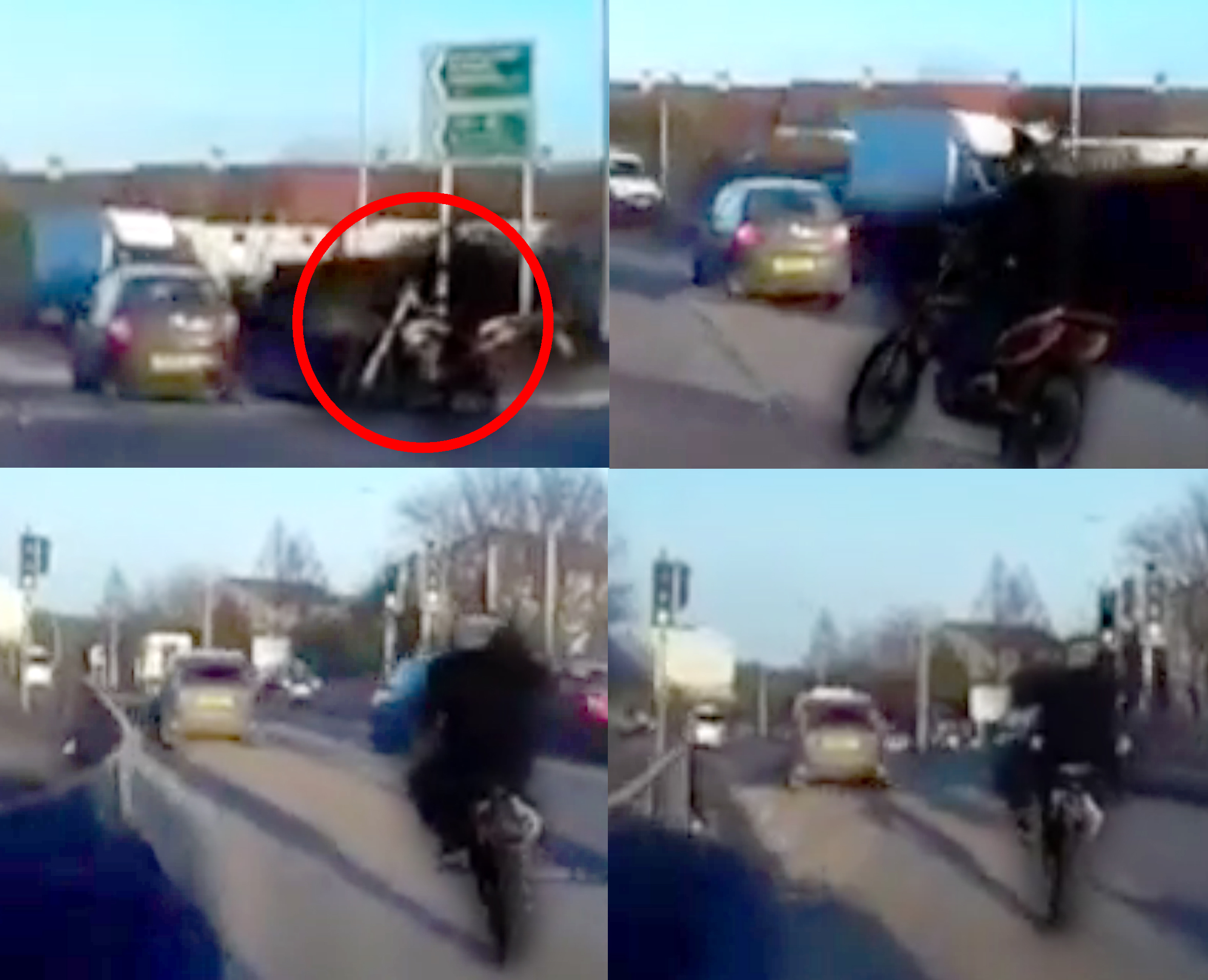 Councillor Gordon Graham, who represents Northfield and Mastrick North, said the biker's driving was "absolutely senseless".
He said: "Luckily there haven't been many incidents like this recently but it certainly has been a problem in the past.
"The way this man is driving his bike is absolutely senseless.
"He's not only creating a hazard for himself but all other drivers around him for no other reason than to get a bit of a thrill.
"I hope that people like this are caught as quickly as possible."
Councillor Graham added: "It seems this guy was captured on a dashboard camera but a lot of drivers don't have these.
"If you do I'd urge anyone to give their footage to the police and if not to report any dangerous driving to them."
Neil Greig, research and policy director at the Institute of Advanced Motorists, said that the rider had "an attitude problem".
He said: "This kind of behaviour isn't acceptable to other road users.
"The guy is clearly riding very stupidly and he shouldn't be doing anything like that on a busy, public road like Anderson Drive.
"Hopefully the police will be able to track him down and he will get a visit from them soon."
A police spokeswoman said: "The video has been passed on to police and we are aware of it."
In July 2013, teenager Terry Crook was killed when he crashed a Yamaha bike he had stolen from the West End of Aberdeen.
Mr Crook, 18, from the Torry area of the city, was wearing a balaclava instead of a crash helmet while carrying his young girlfriend on the back when he collided with a car in Provost Rust Drive.