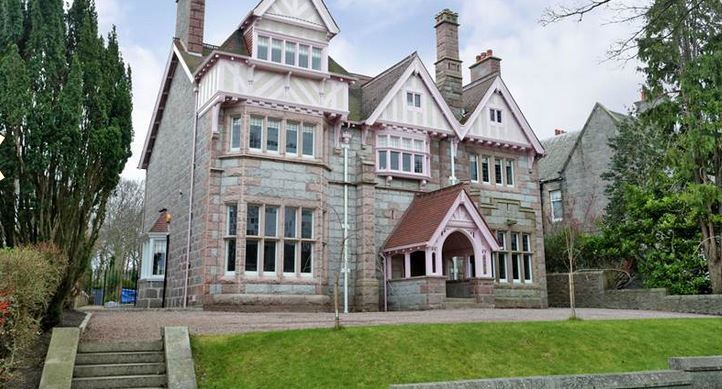 A former Scottish rally champion has taken one of the most expensive houses for sale in Scotland back off the market.
Brian Lyall – who won the Scottish Rally Championship in 1997 – put his luxury seven bedroom mansion in Aberdeen on sale for offers over £3.2 million last month.
It was believed to be one of the highest asking prices in the country for a house this year and was earmarked by property experts as a possible landmark deal of 2015.
And an undisclosed offer was made earlier this month for the opulant abode which sits on one of the city's wealthiest streets.
But today property firm Simpson and Marwick confirmed that One Rubislaw Den North had been withdrawn from the market – as Mr Lyall no longer wants to sell at this time.
Concern has been mounting in recent months that the slumped oil price may affect Aberdeen's buoyant housing market.
Sportsman turned entrepreneur Mr Lyall bought the pink Granite house in 2012 for just under one million pounds.
It is believed to be the first time the impressive B-listed property, which was built in 1901, has been listed for sale on the open market.
The potential sale caused considerable interest around the country due to its monumental price tag.
The pink granite mansion has been extensively restored over the course of the last three years and features a custom built kitchen and four bathrooms.
It boasts seven bedrooms with accommodation spanning over three floors and comes with an elegant drawing room, dining room and lounge.
The owners have access to 14 acres of private woodland nearby and are owners with some of the city's most enterprising entrepreneurs and businessmen.
Changes to stamp duty, due to come into effect at the end of March, is a major factor in sales of expensive properties such as those found in Aberdeen's West End.
Scotland is set to move to the land and buildings transaction tax (LBTT) in April away from the current rate of Stamp Duty imposed by Westminster.
If the sale for Mr Lyall's property had gone through at the asking price before April the prospective buyer could have saved around £45,000 on stamp duty.
The house was listed in the property schedule as being one of Aberdeen's "most prestigious" addresses in the heart of the city.
It sits on a leafy street of mansions just round the corner from where the most expensive house in Scotland was sold last year.
Fisherman Peter Tait paid £3,070,000 for the three storey granite mansion at 34 Rubislaw Den South – breaking Scottish house price records for 2014.
The previous record for most expensive house sale in 2014 was held by a property in Haddington, East Lothian, which sold for three million pounds.