Rebecca Buchan
Three young women who pretended to be single mums to defraud the authorities out of a total of almost £40,000 have narrowly avoided jail.
Samantha Reid, Jenna Taylor and Georgina Crichton were all ordered to carry out unpaid work in the community after they admitted carrying out the benefit fraud over periods of more than a year.
The women all fought back tears as their solicitors told Aberdeen Sheriff Court how difficult financial situations had led to their crimes.
Representing Taylor, 28, solicitor David Sutherland said the mum-of-two had failed to tell the authorities that she was living with her partner Allan Leslie between January 1, 2011, and July 22, 2013.
During this time she wrongly claimed a total of £14,715 in housing and council tax benefits and income support.
Mr Sutherland said his client was "well aware" of High Court guidelines which indicate anyone who fraudulently claims more than £10,000 should receive a custodial sentence.
However, he said he client was thrown into financial difficulties when her partner started gambling. He added that she was paying the money back at a rate of £5 a week.
Sentencing Taylor, of 14 Townhead Drive, Inverurie, Sheriff William Taylor said she was in "very grave danger of being sent to prison" as there was no realistic prospect of her repaying all of the money at the current rate.
"We will all be dead by the time that money is repaid," he told her.
However, he said that given her personal circumstances he was prepared to impose a community payback order instead and ordered her to carry out 250 hours in the next two years.
Sheriff Taylor also ordered Reid, 26, of 804 Great Northern Road, to carry out 100 hours of unpaid work after she admitted carrying out a benefit fraud totalling £7,032.
Again she lied to the authorities by claming she was a single mum when she was living with her partner Ryan Strachan.
Thirty-year-old Crichton was also warned she was "at the edge" of the threshold for being sent to prison after she admitted fraudulently claiming a total of £15,084 in benefits between January 2012 and June 2013.
The court heard she lied to officials at Aberdeen City Council and the Department of Work and Pensions (DOWP) claiming she was living on her own with her three children when she was actually living with her husband Kevin Robertson.
Sentencing Crichton, of 153 North Anderson Drive, Aberdeen, Sheriff Graham Buchanan said benefit fraud had to be treated seriously – but that as she was a first offender and was making efforts to repay the money he would not send her to jail.
She was ordered to carry out 240 hours of unpaid work within a year.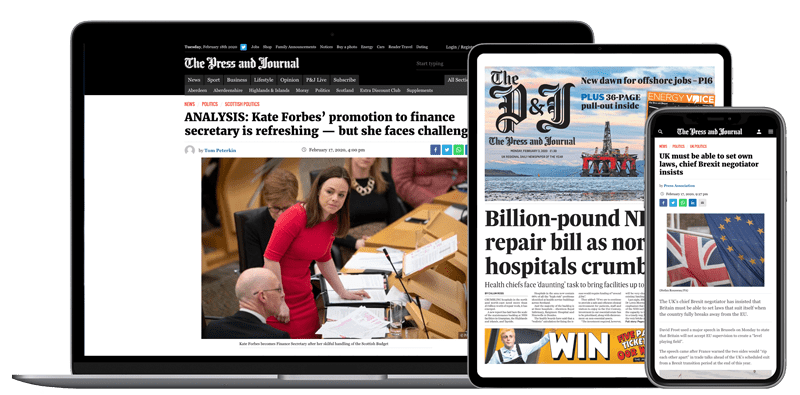 Help support quality local journalism … become a digital subscriber to The Press and Journal
For as little as £5.99 a month you can access all of our content, including Premium articles.
Subscribe