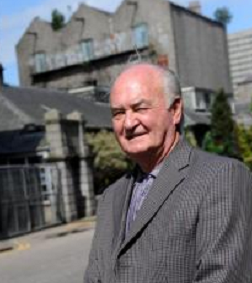 Teachers, nurses and police officers could be given the chance to jump the council house waiting list in a new initiative aimed at tackling a public sector staff crisis in Aberdeen.
City council officers have proposed letting up to 57 flats in Smithfield Court on a short-term basis to "key workers" moving to the north-east.
The local authority, along with NHS Grampian and Police Scotland, has struggled to recruit and retain employees due to the high cost of living.
House prices and rents have escalated in a local economy buoyed by the success of the oil and gas industry, making it difficult for lower paid workers to find affordable accommodation.
A report to the communities, housing and infrastructure committee, which meets next week, has acknowledged there may be a "potential for conflict" with existing housing legislation in terms of allocating properties.
There are currently more than 7,600 people on Aberdeen's council house waiting list.
However, committee convener Neil Cooney said there was a lower demand for the types of properties at Smithfield Court, which are all one and two bedroom homes.
The council also said the 57 flats represented a very small percentage of the city's housing stock.
If the plan is approved on Wednesday, staff moving to Aberdeen will be offered a rental rate of £100 a week for an initial period of six months.
Mr Cooney, a Labour councillor, said: "I think it is something worth putting before the committee – it ticks all the right boxes.
"We have had a problem recruiting care professionals and teachers especially, and this is one way of tackling it.
"Getting people to come to the city when the cost of living is so high is something we have to address."
Graham Dickson, spokesman for the SNP group on the council, said: "It is the kind of proposal that we need to be looking at.
"We need to be able to get these kinds of workers, particularly teachers, to be able to afford to come to Aberdeen and teach our kids."
However, the SNP said tenants in Middlefield who are being relocated due to the improvement work taking place near the Haudagain should be given first refusal of the Smithfield Court flats.
Mr Cooney insisted that would be the case. He added: "There are only two or three who have expressed a vague interest, and that will be taken on board. There will be room to accommodate them as well," he said.