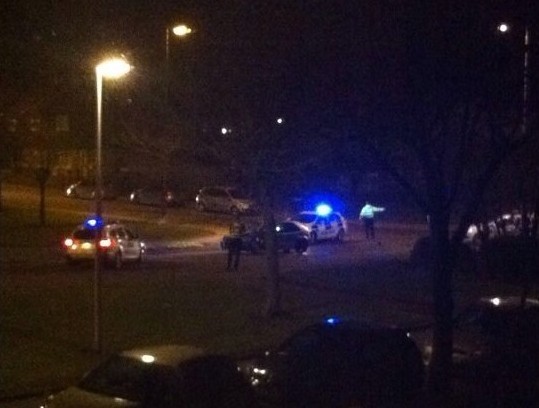 A groups of youths sparked a manhunt after colliding with a police dog vehicle on an Aberdeen street.
Locals reporting seeing a group of four people running from the wrecked Citreon Saxo after it collided with the van at the junction of Provost Fraser Drive and Upper Mastrick Way.
Officers had earlier attempted to stop the car on Springhill Road after spotting a broken tail light.
The driver took off and moments later crashed into the police dog unit vehicle at the Mastrick junction.
The occupants of the car are still being sought by officers.
Yesterday, police were investigating whether the car had been stolen.
Police said only two men fled the scene, however one local resident, who looked out of her window to see a "circus of flashing lights", claimed four people came out of the car.
"There were definitely four," she said.
"I don't know exactly what happened but it looked like the police car had turned to block them. I'm just glad nobody was hurt."
Another Mastrick resident, joiner Liam Philpott, ran out to the street with his younger brother after hearing a "massive bang".
The 22-year-old said: "I thought they were being chased and tried to go over the grass.
"When I saw the car it looked like it had hit the van. It had hit something head-on.
"The police were definitely behind them. There were five police cars.
"It all happened so fast and the police were quick in coming, within 30 to 40 seconds."
A police spokeswoman said the incident happened around 10.30pm on Tuesday after officers attempted to stop a silver Citroen Saxo in connection with "a minor road traffic offence" in the Springhill Road area.
"The vehicle failed to stop and made off from police. A short time later the vehicle was in collision with a police dog unit van in Provost Fraser Drive, Aberdeen and two male occupants made off on foot.
"A number of lines of enquiry are being followed up in relation to this incident with a view to identifying the occupants of the Citroen Saxo who have yet to be traced."