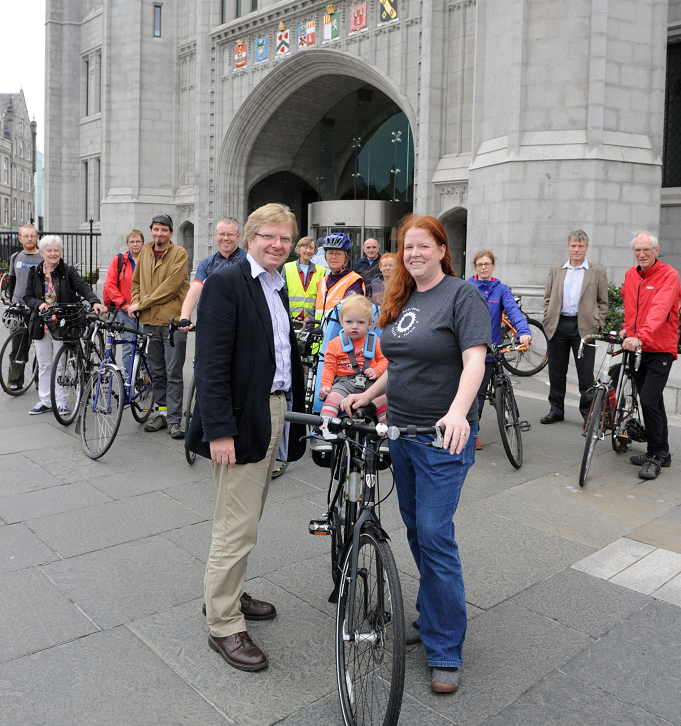 An Aberdeen cycling group will ride on Marischal College tomorrow to raise the profile of the pastime in the north-east.
Inspired by the Pedal on Parliament movement in Edinburgh which encourages cyclists to make their voices heard at Holyrood demonstrations, the Aberdeen Cycle Forum is hoping to take a similar message to the city council.
More than 45 riders will cycle from Hazlehead Park to Marischal College tomorrow to highlight how conditions for bike-users could be improved in Aberdeen.
Jyll Skinner, chairwoman of the forum, said: "Some of us had been to a Pedal in Parliament event in Edinburgh, and we came back thinking it be great to have something like that in Aberdeen.
"This will be the first event of its kind in the city. I think one of the main problems for cycling in Aberdeen is the perception that it's so dangerous and, although there are problems, we definitely see all the benefits of cycling as being far more important.
"However, it could be made safer, and there are ways that the council and central government could improve cycling, such as improving infrastructure and driving standards, and the ways that lanes are managed on roads.
"There are so many ways that we can realise this goal of truly sustainable transport."
She said the group hoped to meet a number of councillors on the day, and speak to members of the public about how to encourage cycling.
"It will be good for people to see the cyclists coming all at once down Queen's Road, Albyn Place and Union street and see that we really do have a lot of cyclists in Aberdeen," she added.
"We have definitely seen positive steps take place in Aberdeen but we think that there's a lot more that can be done.
"The biggest thing is to get people who don't think of cycling as a normal activity to consider it more as an accessible way of keeping healthy and getting around in an environmentally-friendly way."