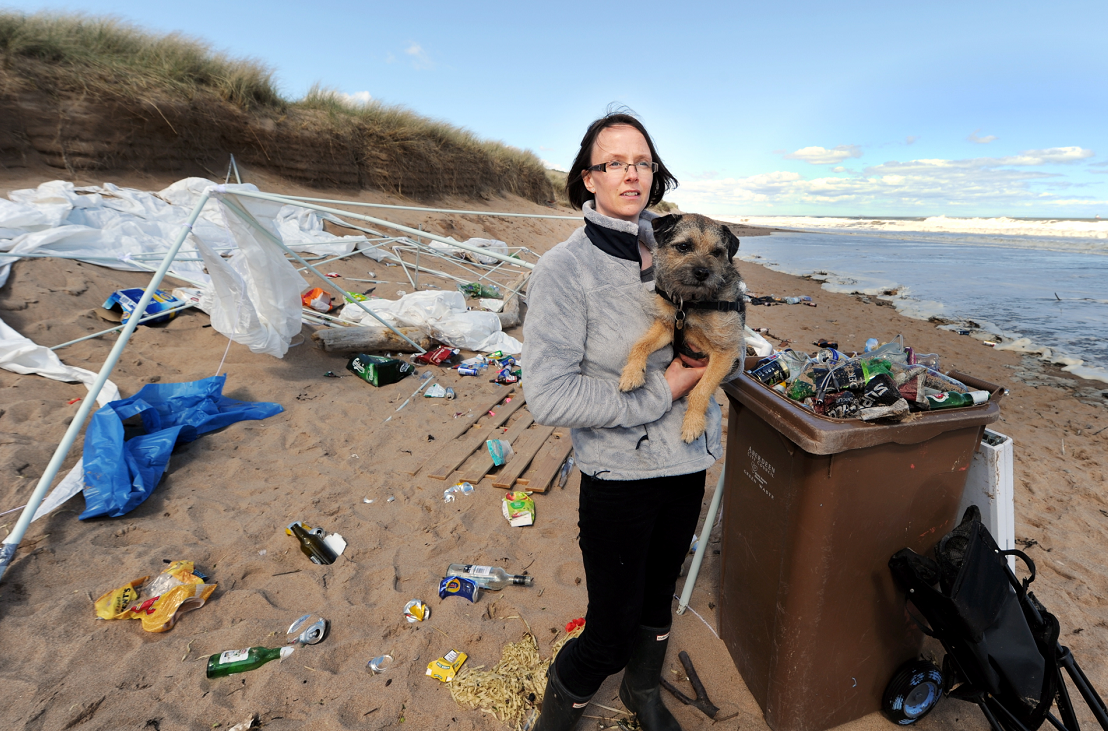 An Aberdeen beach has been left covered in rubbish in the aftermath of an illegal rave that was organised online.
On Saturday it is understood that around 50 people turned up to a DJ set on a beach just north of the mouth of the River Don, which was being played under a gazebo from "6pm to sunrise".
But yesterday morning, when many dog walkers were enjoying a stroll along the beach in the sunshine on their day off, the remains of the party were found strewn across the beachfront.
Angela Slater, a practice manager at the nearby David Murray Associates architecture firm, came across the enormous mess before she started her shift while walking her terrier Max.
She said: "I just saw it when I was coming to work. It wasn't there on Friday, so it must have been there on Saturday. Stuff like this happens down here quite a lot, but I've never seen it as bad as this before.
"It's a health risk. You can't just leave empty cans and bottles lying around like that, it's especially dangerous for dog walkers or people with children.
"This stuff happens more in the summer when it's warmer, and it's usually just a little fire or a barbecue left behind, not something of this scale.
"It's horrible, especially that the tide will just come up and wash it all out to sea, and spread it around the beach."
One man who attended the party, who did not wish to be named, said: "It was scheduled for 6pm to sunrise. We were all told to keep it on the quiet before we went and not to arrive in big groups.
"There was about 50 people there, everyone was drinking and dancing to the tunes, there was a big fire going, people were dancing around, there were a lot of drugs on the go."
"We made sure we took all our cans away with us when we left, but I think people were there all night. It's a shame they didn't tidy after."
Amongst the debris were two chairs, a table, a brown council bin full of rubbish, and countless empty cans and bottles of booze.
Willie Young, a Bridge of Don ward councillor, said: "Obviously if there has been an illegal act committed the police need to look into it.
"And if they have left rubbish there, they really need to clean up and make sure that the beach is left clean and tidy after they have left.
"I've got no problem with people enjoying themselves and having fun, it's what I did when I was their age, but what I do have a problem with is leaving a mess that council taxpayers will have to pay to have cleaned up, it's not fair and it's not right, and I hope that if they ever do it again they'll reflect upon that."
Derek Robertson, the chief executive of charity Keep Scotland Beautiful, said: "This is a shocking example of how disrespectful people can be of our wonderful natural environment.
"These pictures show a shocking disregard for our beaches, one of our most treasured national assets. Leaving litter behind irresponsibly has consequences for our health, our nation's finances and for our sense of civic pride.
"It's time for an end to the irresponsibility, and for a determined national response to the scourge of litter."
Police Scotland could not confirm last night if an investigation is taking place.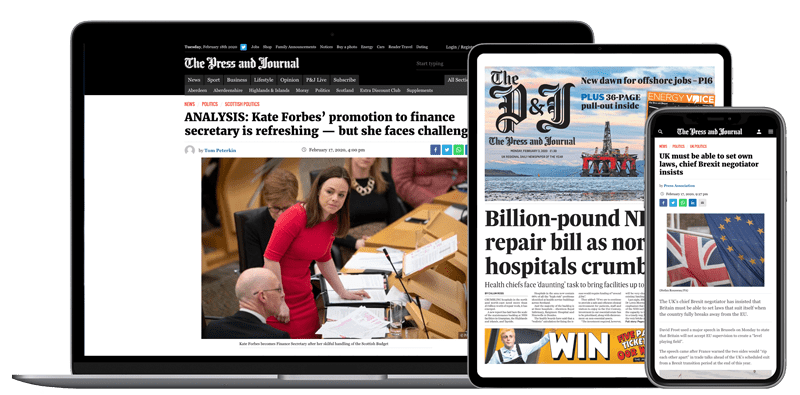 Help support quality local journalism … become a digital subscriber to The Press and Journal
For as little as £5.99 a month you can access all of our content, including Premium articles.
Subscribe